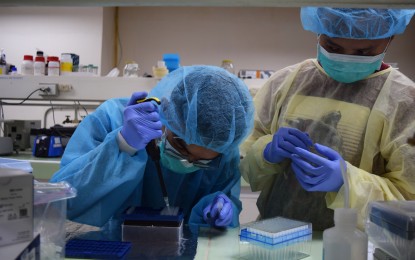 MANILA – The United States government donated on Friday reverse transcription-polymerase chain reaction extraction kits, equivalent to 3,000 tests, to the Philippine Genome Center (PGC) to help the country strengthen its genomic surveillance and testing.
The kits were turned over at a virtual event with Department of Health Undersecretaries Maria Rosario Vergeire and Myrna Cabotaje, PGC Executive Director Dr. Cynthia Saloma, and other representatives from the government and private sector.
"We hope that these kits will continue to strengthen testing and genomic surveillance capability of the Philippine Genome Center as we work together to stop the spread of Covid-19," said Michelle Lang-Alli of the US Agency for International Development (USAID) Philippines.
"These kits will support the tracking of variants, which is key to curbing the spread and being in front of the virus as the pandemic continues to evolve," she added.
The US government, through USAID and its Department of Defense and State Department, has invested nearly PHP1.4 billion to support the Philippines' response to the Covid-19 pandemic.
Its assistance has also helped the country implement internationally recognized infection prevention and control strategies; strengthen laboratory systems; build the capacity of frontline health workers to prevent, detect, trace, isolate, treat and manage Covid-19 cases; communicate effectively about health risks; and roll out vaccines.
Among others, the US is also a top contributor to the COVAX Facility, a global alliance tasked with increasing vaccine access to countries throughout the world.
To date, the Philippines has received more than 13.3 million doses of vaccines from the alliance, with more than 6.2 million doses directly donated by Washington, D.C. (PNA)