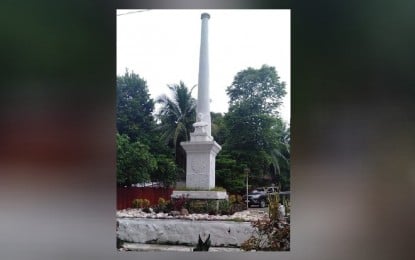 SAN JOSE DE BUENAVISTA, Antique – The 98-year old bust monument of national hero Andres Bonifacio at the municipality of Sibalom is a step closer to being declared as a historical landmark and cultural heritage of Antique.
The Provincial Board on Thursday approved on second reading the proposed ordinance for the declaration that was sponsored by Board Member Errol Santillan, chair of the Committee on History and Cultural Heritage.
"Due to the rarity of artists engaged in sculpting in the country at that time, the monument was considered as a precious award based on historical accounts," the ordinance said.
The bust was awarded to the municipality for winning the provincial cleanup contest in 1923, Santillan said during the virtual session.
It was first mounted in the northern part of the town plaza but was transferred at the intersection of Avenida-Quezon, Morales, and Bonifacio Streets in 1952 due to historical reasons.
According to the proposed ordinance, the current location was the first route followed by the Katipuneros when they assaulted the Spanish convent during the revolution.
Santillan added that this oldest bust monument in the province, which is placed on a pedestal that measures seven feet, could be also the oldest bust monument in the country.
The proposed ordinance also sought the creation of the Bonifacio Bust Monument Centennial Committee that will carry out the necessary preparations as the monument turns 100 years old two years from now.
"The provincial government, the local government unit of Sibalom, the Antique Provincial Tourism and Cultural Affairs Office and all aligned government and private entities shall observe the commemoration of the 100 years of existence of the Andres Bonifacio Bust Monument," the proposed legislation said.
The committee is proposed to be chaired by Antique Governor Rhodora J. Cadiao with Sibalom Mayor Gian Carlo Occeña as vice-chair.
The ordinance is scheduled for the third and final reading in the next session of the provincial board. (PNA)