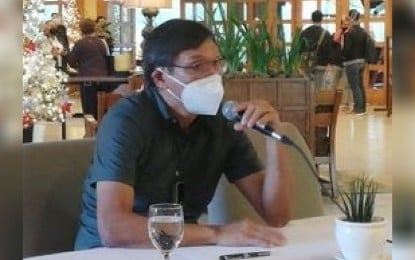 BAGUIO CITY – The Land Transportation Management System (LTMS) sees full completion nationwide before the term of President Rodrigo Duterte ends in 2022, an executive said.
Romeo Vera Cruz, Executive Director of the Land Transportation Office (LTO), in a press conference Friday afternoon, said there are just a few services in some areas which have yet to be done to fully automate the services of the agency in the country.
He said the LTMS will provide clients ease in transacting with the agency as well as make systems easier and accessible to allow the full enforcement of the land transportation laws in the country, allowing also linkages with other government offices who have parallel functions as them.
He said the driver's license system has been completed in the central office since 2017 and is currently being rolled out with other district offices nationwide.
The single transaction motor vehicle inspection and registration system are in full effect, however, multiple transactions have yet to be fully automated.
For the Law Enforcement Adjudication System (LETAS), the alarm and apprehension part that is linked with other quasi-judicial bodies is in force.
"We also receive alarms from the local government units (LGUs), Bureau of Internal Revenue (BIR), Anti-Money Laundering Council (AMLC), National Labor Relations Commission (NLRC), and others who need to tag motor vehicle," Vera Cruz said.
He said the revenue collection system that allows motorists to pay online as an added ease to the over-the-counter payment transaction is now ready and available.
He added the "Portal" which allows the public to create an account and transact with the LTO is also in effect already.
"If they need to make an appointment with an LTO office, they can use the portal to get in touch with us if they cannot come or visit the office will be difficult for the clients," he said.
Vera Cruz said the hardware is already in place in all offices and they are just making some retrofitting to link the body cameras and other gadgets to the system and they will be fully automated and accessible even if they are on the roads enforcing the traffic and transportation laws of the country.
He, however, assured clients, especially in areas where internet signal is an issue, that they still have the Stradcom system, the manual operation that will allow them to cater to the clients in case there are issues with the automated system. (PNA)