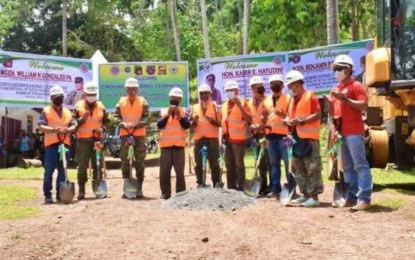 ZAMBOANGA CITY – The government is undertaking a road concreting project dubbed as "road to peace" in a former stronghold of the Abu Sayyaf Group (ASG) in the province of Sulu.
Maj. Gen. William Gonzales, Army's 11th Infantry Division (11ID) commander, said Thursday the road connects Sitios Timbang and Minjay of Barangay Kabbon Takas, Patikul, to Barangay Lower Sinumaan, Talipao.
The concreting of the road, which started after the groundbreaking Wednesday, is facilitated by the Patikul Municipal Task Force in Ending Local Armed Conflict (MTF-ELAC), the 1st Engineering District, and the 11ID.
The TF-ELAC is Sulu's counterpart of the Task Force to End Local Communist Armed Conflict.
Gonzales noted that Barangay Kabbon Takas has been deserted since becoming "ground zero" of several skirmishes between the government forces and ASG bandits over the past several years.
On Nov. 20, 2020, the MTF-ELAC brought home the internally displaced persons (IDPs) of Kabbon Takas, following 11ID's successive gains of the campaign for peace.
Ahajuli Ahajani, barangay chair of Kabbon Takas, expressed his heartfelt gratitude for the continuous support given to their village.
"I am thankful for the support we [have] received in our barangay. It is a big help to the residents of Kabbon Takas since 60 percent of our agricultural livelihood is in Sitio Minjay. It will be easier for us to bring our products to the market," Ahajani said.
"It is just like a dream for me that we were able to return home and to see that there are many developments taking place in our barangay," he added.
Gonzales said that the Sulu TF-ELAC also earlier turned over solar streetlights and covered court projects to the residents of Barangay Kabbon Takas.
He said the former IDPs also became beneficiaries of the Special Area for Agricultural Development Program of the Department of Agriculture empowering the locals to manage a poultry farm.
Gonzales pledged the full commitment of the 11ID for inclusive and sustainable economic development in Barangay Kabbon Takas, Patikul.
He urged the barangay officials and the residents of Kabbon Takas to help them have sustainable peace and development in the village.
"Rest assured that the ASG bandits can no longer return here since we are here and we will not abandon you," he added.
President Rodrigo Duterte, accompanied by Defense Secretary Delfin Lorenzana, led the activation of the 11ID on Dec.17, 2018, to serve as the unit dedicated to fighting the ASG in Sulu. (PNA)