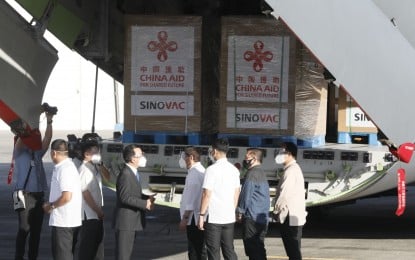 MANILA – The Chinese government is donating 1 million more doses of Sinovac vaccine to the Philippines, Ambassador Huang Xilian announced on Thursday.
The envoy said the fresh donations are expected to arrive in Manila next week.
"I am glad to inform that the Chinese government has decided to donate another 1 million doses of Sinovac vaccines," he said. "I hope that the vaccines will further facilitate the ongoing vaccination roll-out and promote early economic and social recovery in the Philippines."
The additional jabs would bring to 3 million the total vaccine donation by the Chinese government.
China has shipped 1 million doses of Sinovac's CoronaVac in the first quarter of the year and another 1 million doses of Sinopharm vaccine in August 2021.
The latest aid is expected to help the Philippines in its vaccination rollout, especially now that it targets to complete the immunization of 80 to 90 percent of the population by the first quarter of 2022.
As of October 4, the government has secured some 187.6 million doses of Covid-19 vaccines for 2021, of which 77.4 million doses have been delivered since February.
With the steady vaccine deliveries, National Task Force Against Covid-19 chief I-implementer and vaccine czar Secretary Carlito Galvez Jr. expressed optimism that the total vaccine shipments to the country would reach the 100-million mark by the end of October and increase to 160 million doses by yearend. (PNA)