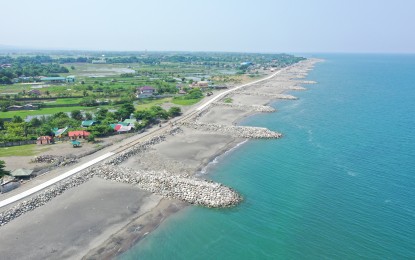 MALASIQUI, Pangasinan – The rehabilitated flood control structure in Agoo town, La Union has ensured protection against flooding, while motorists and residents can now have safer travel with the completion of a barangay road in Mangaldan town, Pangasinan.
In a statement Monday, Department of Public Works and Highways (DPWH) Ilocos Region public information officer Esperanza Tinaza said the 653 lineal meters long rehabilitated 14-groin flood control structures located in barangays San Julian Norte and San Julian West in Agoo town were funded with PHP38.3 million.
The amount funded the rehabilitation and extension of the damaged shore protection works or groins under the General Appropriations Act of 2021.
"It (project) continues to ensure that residents and properties nearby the beach are protected in case of rising seawater level and water surge, which usually happens during typhoons. The shore protection structure has also become a favorite spot for the beach goers, especially during sunset," Tinaza said.
Meanwhile, Tinaza said the new 1.07-lineal-kilometer concrete road in Barangay Navaluan in Mangaldan town, Pangasinan ended the worries about damages to vehicles and accidents due to poor road condition.
"No more hassle (brought about by) the dilapidated road for residents as they will no longer endure the muddy and slippery road during heavy rains," she said.
Tinaza said the PHP4.9-million road project was funded under the General Appropriations Act of 2022.
"The concreted road will also provide access to Navaluan Elementary School, which will be beneficial for the students and teachers when face-to-face classes resume," she added. (PNA)