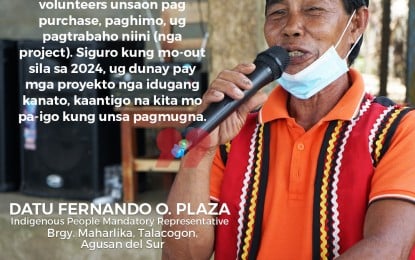 BUTUAN CITY – An indigenous peoples (IP) leader in Agusan del Sur has lauded the Kapit-Bisig Laban sa Kahirapan - Comprehensive and Integrated Delivery of Social Services (KALAHI-CIDSS) program of the Department of Social Welfare and Development (DSWD) in Region 13 (Caraga) for launching government projects in the region.
Datu Fernando O. Plaza, the Manobo tribal chieftain of Barangay Maharlika in Talacogon town, also expressed gratitude to the KALAHI-CIDSS and the DSWD-13 for the management skills their community volunteers have learned while running the projects.
"Thank you KALAHI that volunteers now know how to purchase, construct, and oversee this kind of project," Plaza said in a statement released by DSWD-13 on Tuesday.
In an interview with the Philippine News Agency on Tuesday, Marko Davey Reyes, DSWD-13 information officer, said Barangay Maharlika has been the recipient of three major KALAHI-CIDSS projects since 2017.
He said the project that was formally handed over to the IP community last week involved the improvement of their multi-purpose hall worth PHP763,245.
"The improved multi-purpose hall was (actually) completed in August this year but was converted into a temporary quarantine facility amidst the continuing threat of the pandemic," Reyes said.
He said the daily operation of the hall is being done by a group of volunteers from the community who were trained by DSWD-13 through the KALAHI-CIDSS program.
"Since 2017, the volunteers from the Manobo people in Barangay Maharlika were trained in participatory situational analysis, capacity-building, procurement, and management," Reyes said.
"In 2017, the village received a solar dryer project, and a health station worth PHP1.1 million in 2019 through the KALAHI-CIDSS," he added.
Plaza, for his part, said they were grateful for the projects and knowledge the KALAHI-CIDSS has imparted to them.
"Now, we continue to manage the projects given to us by the government," he said.
The IP chieftain assured the public that they can take over the projects for years to come and become helpful to the community even if the KALAHI-CIDSS program of DSWD does not get extended beyond 2024.
The KALAHI-CIDSS is one of the poverty alleviation programs of the government being implemented by the DSWD.
It uses community-driven development as an overall community development approach and strategy to ensure that development priorities are addressed in a participatory, collective, inclusive, and in demand-driven way. (PNA)