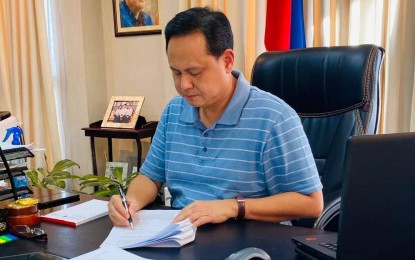 ILOILO CITY – Iloilo, through its Provincial Civil Defense Service of the Province (ProCid Serv Iloilo), will be implementing a small-scale, socialized, and localized housing program for residents of the province living in hazard zones.
"The province shall implement the Purok Resilience Program, a socialized and localized housing program, and likewise a climate change response that shall relocate residents exposed to natural and other related hazards," said Iloilo Governor Arthur Defensor Jr. in his Executive Order 333 that he issued late afternoon of July 22, 2022.
Under the program, the localized housing project with houses and lots or home lots, with sites and services development, will be undertaken by the province or with convergence partners for beneficiaries qualified under the Republic Act 7279 or the Urban Development and Housing Act of 1992.
Another feature of the program is the establishment of Purok Resilience in barangays that will serve as resettlement areas for residents who shall be evacuated from areas exposed to hazards.
It will be established in identified lands owned by the province, owned and donated, or made available by convergent partners for the program.
"Beneficiaries shall be residents who are underprivileged with priority to those who shall be relocated from identified hazard zones," the order added.
The program shall be under the National Housing Program of the government under RA 7279 that will be implemented by the ProCid Serv Iloilo in convergence with concerned national government agencies, local government units, non-government organizations, socio-civic organizations, religious organizations, media, netizens, and the business sector. (PNA)