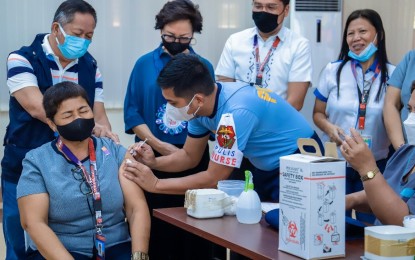 TACLOBAN CITY – With talks on the optional use of face masks in the country, the Department of Health (DOH) regional office here said everyone must work on encouraging residents to get Covid-19 booster shots.
In a statement on Thursday, DOH Eastern Visayas Regional Director Exuperia Sabalberino said they need the help of different government agencies and local government units in the region to continue working hand-in-hand with the department to expand booster shots coverage.
"Hopefully, if we can achieve our booster coverage targets before the end of this year, the Inter-Agency Task Force (IATF) can start deliberating on lifting the policy on the wearing of masks indoors," Sabalberino stated.
The official said even if there are IATF recommendations to make the wearing of masks voluntary for open spaces and non-crowded outdoor areas with good ventilation only, wearing of masks is still highly encouraged, especially for senior citizens and immunocompromised individuals for their safety.
As of end August, some 69 percent of the region's senior citizens got the primary shots while only 15 percent of the general population received booster shots.
At least 2.81 million individuals or 82.59 percent of the 3.4 million target population in the region have been fully vaccinated against Covid-19.
Some 413,714 persons received their first booster and 46,674 got the second.
Since the pandemic broke out, the region has recorded 63,237 confirmed Covid-19 cases and 680 deaths. (PNA)