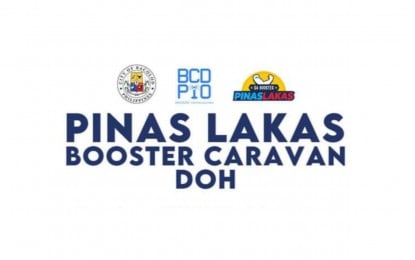 BACOLOD CITY – The city government here kicked off on Monday the coronavirus disease 2019 (Covid-19) booster shots caravan in public markets as part of the Department of Health's (DOH) "PinasLakas" nationwide campaign.
Dubbed "One Week, One Market", the caravan covers the city's three major markets, including the Libertad Market in the south, Central Market in the downtown area, and Burgos Market in the north.
Booster shots are available, from 9 a.m. to 3 p.m., at Libertad Market from Sept. 5 to 9; Central Market, Sept. 12 to 16; and Burgos Market, Sept. 19 to 23.
Mayor Alfredo Abelardo Benitez has acknowledged the need to push for more coverage in booster doses among the Bacolodnons.
"We need to encourage the people to do as much as we can," he said.
Data of the DOH-6 (Western Visayas) showed that although Bacolod has already reached 201 percent and 154 percent full vaccination coverage rates, respectively among the 18 to 59 and the 60 and age groups, booster take-up in both categories is only less than 30 percent.
As of Sept. 5, a total of 76,128 residents of Bacolod, or 29.58 percent of the target population in the 18 to 59 age group have received booster shots while 14,582 senior citizens, or 28.28 percent have been boostered.
In the 12 to 17 age group, a total of 1,863 minors, or 3.93 percent have been given booster shots.
Under the "PinasLakas" campaign, Bacolod needs to administer booster shots to at least 50 percent of the adult population by Oct. 8.
DOH-6 Regional Director Adriano Suba-an had earlier urged residents here to avail of the Covid-19 booster shots to have a safer celebration during the return of the Masskara Festival in October.
"We want to increase the wall of immunity of the community so we can go back to normalcy and we can open our economy confidently and safely. We can celebrate Masskara Festival with confidence, knowing that after, the cases will not increase and people will not get sick," he said. (PNA)