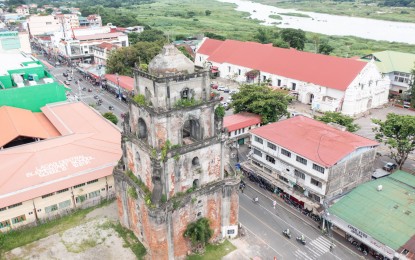 LAOAG CITY – Surviving Wednesday's magnitude 7 earthquake, the iconic Sinking Bell Tower here continues to stand the test of time as a national treasure since it was built by the Augustinians in 1612.
The 45-meter tower, which provides a birds' eye view of downtown Laoag, however, continues to deteriorate and badly needs a new retrofit to save it from the next major quake.
On Friday, Bishop Renato Mayugba and Laoag Mayor Michael Keon jointly conducted an ocular inspection of the site, finding severe cracks inside the bell tower.
The tower was believed to have been built with bricks on a sandy foundation, causing it to sink gradually by an inch every year.
Elders said in the past, a man on a horse could pass through its gate effortlessly but now, a man could barely stand still near it.
To preserve this important national treasure, visitors are no longer allowed to pass through the gate, which has been padlocked.
"This is a heritage site and it needs to be preserved and restored," Keon said in an interview, pledging to raise the matter with his nephew, Governor Matthew Joseph Manotoc.
With so many traces of cracks inside the tower, Keon fears that it may not survive another strong quake if the government does not act swiftly to retrofit the old structure.
According to Laoag tourism officer Carmela Remigio, the bell tower was "fortified" two years ago by the National Commission on Culture and the Arts.
Senator Ma. Imelda Josefa "Imee" Marcos also inspected the bell tower on Thursday for any damage, along with other important heritage sites in the Ilocos region.
According to Marcos, "retrofitting the bell tower with new steel bars and concrete can still save the structure and its value to domestic and international tourism."
Bishop Mayugba, meanwhile, thanked government authorities for sharing similar concerns on the cultural preservation of church heritage sites.
"We continue to pray to God for his love and compassion. On the other hand, we join hands with the government in addressing professional and collaboratively the preservation of heritage sites," he said. (PNA)