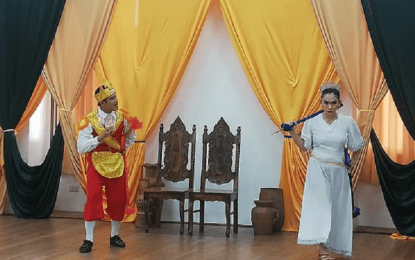 SAN JOSE DE BUENAVISTA, Antique – The cultural bearers in Antique province have been lauded for their work in preserving the "Komedya," a play in verse that was introduced by the Spaniards, and used to be the popular form of entertainment since the 15th century.
Richard Magbanua, a local researcher, said the Komedya was preserved because the cultural bearers in Antique trained the next generation, their students, or the people of the community on how to perform it, in honor of their town's patron saint, or as a form of thanksgiving.
"Komedya is still being performed during fiestas, festivals and other significant gatherings because of the cultural bearers," he said in an interview Friday.
According to his research, Magbanua said Antique's Komedya revolves around the plot where the queen or princess is being pursued by her ardent lover, that ended into a sword and dagger fight because of the rejection.
Komedya also portrays the clash between the Moors and the Christians.
"The war drama is accompanied by the community brass band with a repertoire of diverse and distinctive marches," Magbanua said.
Earlier, Antique Representative Antonio Agapito Legarda lauded the cultural bearers for preserving the Komedya "despite the passage of time."
"The Komedya is the highlight or specimen of our rich tradition, culture and heritage and it defines us as individuals," Legarda said during the Komedya performance on Dec. 21 at the old capitol building in this capital town as part of the Binirayan Festival.
Senate Pro-Tempore Loren Legarda also expressed her support in preserving the rich tradition, culture and history of her home province.
In a message delivered by Rep. Legarda, the lady senator said "it is important that the cultural bearers be recognized for their talents."
The cultural bearers who were given recognition during the event were Jerry Baclagon, Nelly Marquez Albario, Agustin Española, Leonardo Arcenio Mendoza, Jennifer Davido Rizardo, Nena Blas, Mc Laurence Saligumba and Wenifredo Marcelo. (PNA)