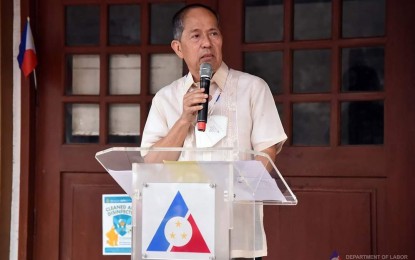 MANILA – The Department of Labor and Employment (DOLE) reminded private sector establishments anew on the safety protocols being implemented by the government to promote the safe reopening of the economy and contain the transmission of coronavirus disease 2019 (Covid-19) in the workplace.
In an advisory signed by Secretary Bienvenido Laguesma, the agency urged employers in the private sector to strictly observe compliance and alignment of company policies with the Department of Health (DOH) issuances on prevention, detection, testing, quarantine, and isolation.
Also, he reminded them about the DOLE's ventilation guidelines as part of the Covid-19 response.
"The covered establishments shall comply with Department of Health (DOH) Memorandum No 2022-0013 or the Updated Guidelines on the Quarantine, Isolation, and Testing for Covid-19 Response and Case Management for the Omicron Variant, and the latest DOH issuances," said the advisory dated Sept. 5 and released on Tuesday.
"The covered establishments shall also ensure the good practice of detection strategies in workplaces as stipulated in Section VI (B) of DOH Administrative Order (AD) No. 2021-0043 or the Omnibus Guidelines on the Minimum Public Health Standards for the Safe Reopening of Institutions," the DOLE added.
Companies are also reminded of the submission of a list of Covid-19 cases and close contacts with the respective local government units and the DOH.
They are also required to submit an Employer's Work Accident/Illness Report (WAIR) through the DOLE Establishment Report System.
"The covered establishments shall further adhere to the latest Guidelines on the Nationwide Implementation of Alert Level System for Covid-19 Response and the DOLE Department Order No. 224, Series of 2021 or the Guidelines on Ventilation for Workplaces and Public Transport to Prevent and Control the Spread of Covid-19," it added.
The latest data from the OCTA Research Group show the positivity rate, the number of people testing for Covid-19, in the National Capital Region (NCR) has slightly decreased to 12.1 percent.
It added that the figure is a 0.8 percent decrease from the region's 12.9 percent positivity rate as of late August. (PNA)