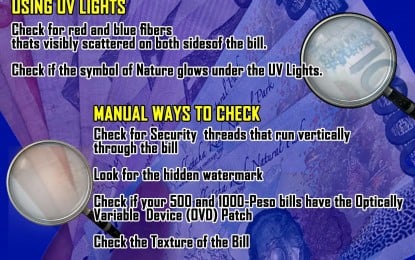 LAOAG CITY – Local police authorities here on Tuesday warned the public anew against the proliferation of counterfeit peso bills.
The warning was made by Col. Julius Suriben, director of the Ilocos Norte Police Provincial Office, after they received reports of counterfeit money circulating in the province.
"The PNP is reminding the public to be careful with their transactions when they shop in markets and malls," he said.
Provincial treasurer Josephine Calajate also expressed alarm as some municipal treasurers in Ilocos Norte and other provinces have reported fake 1,000 and 500 peso bills that were used to pay government taxes.
"Respectfully requesting the [Philippine National Police] and other concerned authorities for their assistance," said Calajate in her Facebook post as she urged the public to be extra careful.
Real banknotes have embossed security features and are usually rougher and thicker compared to fake ones.
In a public advisory, the PNP shared some tips on how to detect fake money using ultraviolet light and looking for security features on the bill like the security threads that run vertically through the bill, hidden watermarks, and optically variable device patch on PHP500 and PHP1,000 bills. (PNA)