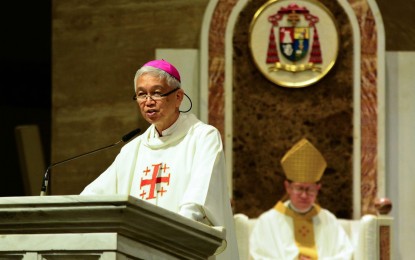 MANILA – The installation of Bishop Broderick Pabillo as the new vicar apostolic of Taytay, Palawan has been scheduled for next month.
The installation Mass will be held at 9 a.m. at the St. Joseph the Worker Cathedral in Taytay town on Aug. 19.
Rev. Fr. Reynante Aguanta, administrator of the vicariate, said preparations have started on how to hold the installation rites safely amidst the coronavirus disease 2019 (Covid-19) pandemic.
"We priests are still meeting but our baseline is that August 19 is the installation," he said in an interview over Radio Veritas on Tuesday.
The Catholic priest added that they are also coordinating with the local government to better manage the upcoming Church event.
Pabillo, currently Manila auxiliary bishop, is scheduled to leave Manila in the second week of August.
Pope Francis appointed 66-year-old Pabillo as the second vicar apostolic of Taytay on June 29.
He will replace Bishop Edgardo Juanich, who resigned in 2018 due to health reasons.
Pabillo had been auxiliary bishop of Manila since 2006. (PNA)