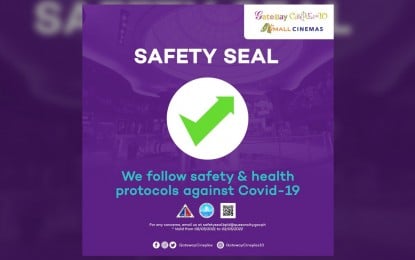 MANILA – The Safety Seal, the poster with the green check usually displayed on entrances of establishments, does not only mean compliance with health protocols but also assures clients that they are safe as they will deal with vaccinated workers.
Once Safety Seal-certified, 10 percent will be added to the allowed capacity of the establishment, according to the Quezon City Business Permits and Licensing Department.
The QC government is encouraging all business establishments to apply for a Safety Seal certificate as the process has become easier and is free of charge.
"Ang safety seal ay indikasyon na nakasunod sa tamang pamantayan ng health and safety protocols ang mga negosyo at natitiyak nito ang kaligtasan at kaayusan ng mga establisyimento (The safety seal is an indication that businesses follow health and safety protocols and assures the establishments are safe and in order)," the QC Government posted on Facebook on Monday night.
The Safety Seal Certification in QC can be processed through https://qceservices.quezoncity.gov.ph/.
Once approved, the printable certificate will be sent through the applicant's registered email.
The seal is valid for six months from the date of issue, except for those of tourism enterprises which shall be valid for one year.
An initiative of the Department of Trade and Industry, the Safety Seal is a voluntary certification scheme that affirms that an establishment is compliant with the minimum public health standards set by the government and uses or integrates its contact tracing with StaySafe.ph.
The Safety Seal is issued to supermarkets, groceries, convenience stores, membership shopping clubs, construction supply/hardware stores, logistics service providers, barbershops and salons, and service and repair shops.
Among the criteria are the availability of handwashing stations, soap and sanitizers, and hand drying equipment or supplies like paper towel; employees and clients/visitors are placed in strategic locations in the establishment; observance of physical distancing or spacing through the installation of physical barriers in enclosed areas where physical distancing may be compromised; wearing of face masks and face shields, especially in enclosed places, and wearing of other protective outer garments as warranted; and designation of a safety officer.