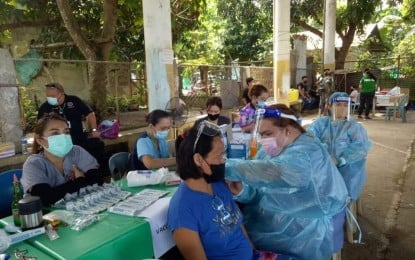 ILOILO CITY – The provincial government here will add more vaccination teams to achieve the target of vaccinating 35,000 persons a day this last quarter to cover 70 percent eligible population by December this year.
Iloilo Governor Arthur Defensor Jr. signed Executive Order 628 on Tuesday to boost its vaccination program on coronavirus disease 2019 (Covid-19) by identifying strategies to be adopted together with the city and municipal governments.
The adoption of strategies is in anticipation of the 9 million vaccine allocation that will be allotted by the National Vaccination Operations Center (NVOC) to Western Visayas this last quarter, he said during a media interview.
"This seeks to augment vaccination teams in our municipalities or at least in their capacity," he said.
Currently, the provincial government is sending vaccination teams to barangays to inoculate willing residents.
Under the new strategy, the provincial government will be seeking assistance from member agencies of the inter-agency task force such as the Philippine National Police (PNP), Armed Forces of the Philippines (AFP), Bureau of Fire Protection (BFP), and other agencies to be able to form more vaccination teams.
"This is to revisit the vaccination programs of the municipalities. We need to regroup. It has been months, our personnel are tired that is why we want to regroup so that we can prepare for the higher level of vaccine allotment from the national government," he added.
As of Oct. 26, the provincial government has been allotted 1,197,154 doses of various brands of the Covid-19 vaccines for 40 percent of its eligible population.
Some 507,515 have received their first dose, and 344,973 are fully vaccinated out of the 1,448,757 eligible population of the province as per data from the Iloilo Provincial Health Office (IPHO) on Oct. 26.
Gradually, the provincial government will relax its restrictions as more people will be vaccinated, Defensor said.
"They are actually inversely proportional. The more vaccines administered, the less strict we are because of our confidence in the vaccines," he said.
He added that there are enough vaccines because from the start while the province is still working on its inoculation plan, it already knew that the bulk of vaccines will arrive this fourth quarter of 2021. (PNA)