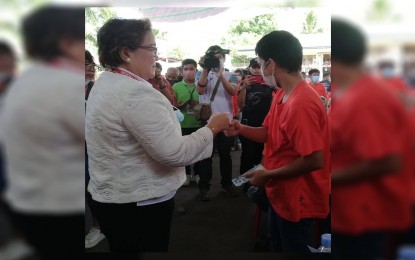 SAN JOSE DE BUENAVISTA, Antique – The Department of Social Welfare and Development (DSWD), through the Provincial Social Welfare and Development Office (PSWDO), released on Monday over PHP930,000 aid to 186 persons deprived of liberty (PDLs) held at the Antique Rehabilitation Center (ARC).
The distribution led by Antique Governor Rhodora Cadiao and Social Welfare and Development (SWAD) team leader Melrose Amaran was in response to the request of the PDLs for financial assistance that they can use to buy hygiene kits and to be shared with their families outside of the facility.
"AICs (individuals in crisis situation) is also given because your families need help considering that you, their main bread winner, are still here and not yet able to find a means of living for them," Cadiao said in her message during the distribution.
Amaran said the DSWD recognized that inmates have no visible means of income to support their families.
"The PDLs' families have been greatly affected, especially during the pandemic having no visible source of income, thus, they are in crisis situation," she said in her message.
ARC Jail Warden Eduardo Ebon, in an interview, said it was the first time that the PDLs in Antique and, perhaps also in Western Visayas received financial assistance.
"The assistance is a big help to the PDLs," he said.
He said the office of the governor also wanted the daily allowance of the PDLs be increased to PHP55.
"With the rising cost of basic commodities, the PHP-45 subsistence allowance of each PDL is no longer adequate," he said.
Antique Vice Governor Edgar Denosta, who was present during the distribution, has assured the support of the Provincial Board to the increase in the PDL's daily subsistence allowance. (PNA)