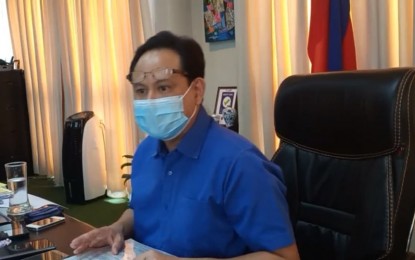 ILOILO CITY – The province of Iloilo will take its latest quarantine classification as an opportunity to prepare for the further surge of the coronavirus disease 2019 (Covid-19), Governor Arthur Defensor Jr. said on Thursday.
"We have the official resolution and we are officially under GCQ (general community quarantine)," he said during his regular press conference.
He said the Ilonggos have understood that they have a stronger capacity to handle the disease.
Defensor said the province will renew its observance of the minimum public health standards and reverse isolation.
"That's how we adjust now because we understand more. It is the new flu, it is here, we just survived a surge and it will surge again, especially if we will not be careful this Christmas season," he said.
Defensor said they will be amending Executive Order 305, which serves as guidelines of the province's current modified enhanced community quarantine (MECQ) status for the GCQ status that will take effect from Oct. 16 to 31, 2021.
Among the relevant provisions to be amended, he said, are the operations of establishments, where there is a wider leeway for non-essential establishments to operate.
He said under the GCQ, the capacity may even increase from 50 up to 100 percent.
There will also be an improvement on the level of social gatherings that will be allowed, he added.
With the loosening of some restrictions, the governor said the public is still obliged to observe the minimum public health standards (MPHS) whenever there are gatherings.
Defensor said it is important to always observe safe physical distancing, wear a mask, and sanitize hands.
The governor added that he is constantly talking with Mayor Jerry Treñas since Iloilo City has also been placed under GCQ from Oct. 16 to 31 from its current GCQ with heightened restriction status.
The mayor on Wednesday said the city will continue to ramp up its vaccination program, strictly adhere to the MPHS, and launch massive testing and contact tracing as it aims for a modified GCQ in November. (PNA)