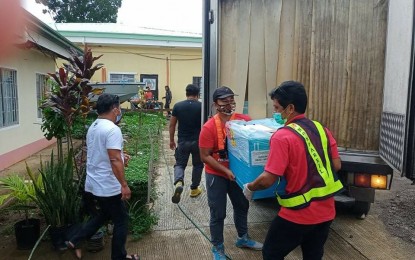 TACLOBAN CITY – The Department of Health (DOH) has started the direct delivery of Covid-19 vaccines supplies to Biliran province to ensure its immediate rollout.
DOH regional information officer Jelyn Lopez-Malibago said in a phone interview on Tuesday some 10,000 doses of Sinovac vaccine were transported directly to the cold storage facility of the Biliran provincial hospital on Monday.
"This is the province's first direct delivery of Covid-19 vaccines for its pre-allocated supply, and more vaccine allocations are expected to follow in the next few weeks," Malibago said.
The Biliran provincial health office said in its social media post 5,000 doses will be for the first dose while the remaining 5,000 doses will be reserved for the second dose.
All residents of Biliran eligible for vaccination are encouraged to coordinate with their local government for pre-registration and get vaccinated to get maximum protection against the severe form of Covid-19.
As of August 24, a total of 40,625 doses have been administered in eight towns in Biliran province, including 19,343 for the first doses and 21,282 for the second doses.
All the six provinces in the region have been covered by the new vaccine transport system, tapping the logistics firm Nonpareil International Freight & Cargo Services Inc.
The DOH also made direct deliveries to Tacloban City and Ormoc City, both in Leyte province.
"Through direct deliveries, there is less waiting time, lessen stock outs in the provinces, easy access of more local government units to vaccines," Malibago added.
Through this system, the vaccines that arrived at the Tacloban Airport were no longer transported to the DOH regional office cold storage facility, but all pre-allocated vaccines were sorted for direct delivery to each local government unit.
This is a preemptive approach of the regional vaccine operations center as the region anticipates successive deliveries in the future and for efficient transportation, the DOH said. (PNA)