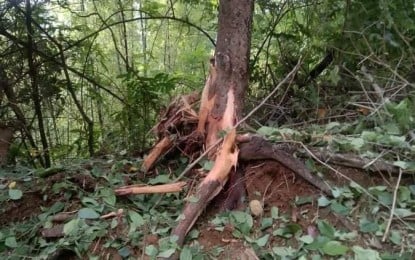 ILOILO CITY – A recent anti-personnel mine (APM) explsion planted by the Communist Party of the Philippines-New People's Army (CPP-NPA) in the municipality of Tubungan, Iloilo on Oct. 24 was a tactic to prevent development in the area.
This, according to Col. Gilbert Gorero, director of the Iloilo Police Provincial Office (IPPO), in an interview Wednesday, following an APM near the patrol base of the 1st Iloilo Provincial Mobile Force Command (IPMFC) morning of Oct. 24 in Barangay Mayang, Tubungan.
A pursuit operation led to an encounter with members of the CPP-NPA Southern Front Committee, Komiteng Rehiyon Panay past 2 p.m. on the same day.
Some personnel of the mobile force, Cpl. Genel S. Simpas and Pat. Jessie L. Castamado, were wounded after the rebels detonated two-directional type APM that were hanging on a tree while their team was scouring the area in Barangay Jolason, around 1.2 kilometers away from Barangay Mayang.
The two wounded personnel are already in stable condition. Simpas underwent surgery after his face was hit by shrapnel while Castamado was subjected to psychological debriefing.
"They would like to get rid of the PNP (Philippine National Police) so they could do what they want like harassing the residents so it would be easier for them to get their support and prevent the development from coming into the area," he said in dialect.
"IPPO condemns the act of terrorism. It is a blatant violation of humanitarian law and this is not allowed by law," he said.
No civilian was hurt since when the policemen retaliated during the seven-minute firefight, they took into consideration innocent civilians who might be harmed since there are houses in the area, Gorero added.
The PNP, particularly IPPO, and the Armed Forces of the Philippines (AFP), and other uniformed personnel are serious in implementing Executive Order 70 or the whole-of-nation approach to achieve the development being aspired by the community, he said.
He emphasized that cooperation from the community, which means their readiness to withdraw their support to the CPP-NPA, is also important should they want to see development.
The CPP-NPA is listed as a terrorist organization by the United States, the European Union, the United Kingdom, Australia, Canada, New Zealand, and the Philippines. (PNA)