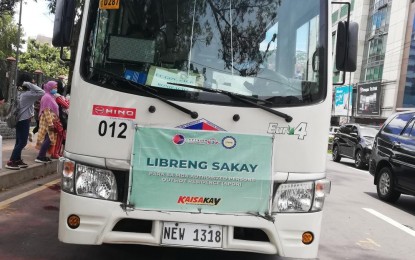 MANILA – A lawmaker on Wednesday urged the Department of Transportation (DOTr) and Department of Budget and Management (DBM) to source or realign at least PHP1.4 billion in public funds to bankroll the Libreng Sakay (free ride) program until yearend to cushion the impact of surging fuel prices on the commuting public.
Camarines Sur Representative Luis Raymund Villafuerte said the agencies should make the continuation of this free ride project a top concern, especially after President Ferdinand "Bongbong" Marcos Jr. himself made this his priority on his first day in office.
"Carrying on with Libreng Sakay should top the concerns of both the DOTr and DBM, considering that one of the very first official acts of Mr. Marcos on his first full day as President last July 1 was for the DOTr to carry on with this program for the benefit of Metro Manila commuters," Villafuerte said.
Marcos approved last July 1 the recommendation of Transportation Secretary Jaime Bautista to extend the free rides for buses plying the EDSA Carousel Busway until end-December along with the free rides in the Metro Rail Transit Line 3 (MRT-3), Light Rail Transit 2 (LRT-2) and Philippine National Railways (PNR) for students, at least for the first quarter of school year 2022-2023 from August 22 to November 4.
Bautista, who had proposed the extension of the free rides in a memorandum, said the DOTr will ask for additional budget from the DBM.
"The Libreng Sakay program demands a certain funding. If we want to implement the free bus rides until December, we will need additional funding of around PHP1.4 billion, which is not available in our existing budget," Bautista said.
Villafuerte also appealed for the DOTr to include senior citizens, persons with disability (PWDs) and solo parents among the beneficiaries of the free rides at the MRT, LRT and PNR.
He said the 19th Congress should also write a 2023 General Appropriations Act (GAA) that will include a budget sufficient enough for the government to carry on with Libreng Sakay "till next year at least".
"President BBM's move to greenlight on Day One of his presidency the extension of the Libreng Sakay program is a harbinger of the better days ahead on his watch for our people, particularly the masa who have been hit the hardest by the economic crisis touched off by the over two-year Covid-19 pandemic plus the oil price shock, food supply squeeze and other ill effects of Russia's invasion of Ukraine," Villafuerte said.
According to the Land Transportation Franchising and Regulatory Board (LTFRB), Libreng Sakay was part of the third phase of the government's service contracting program that ended on June 30.
The first phase of the program was launched in November 2020 as authorized by the Bayanihan to Recover as One Act or the Bayanihan 2 law, a stimulus package designed partly to help the economy recover quickly from the pandemic. (PNA)