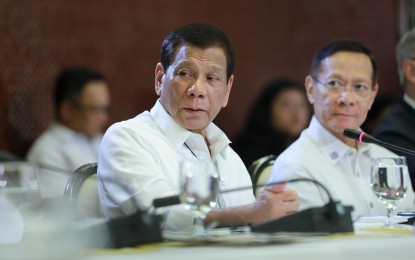 MANILA – President Rodrigo Duterte on Tuesday said he would never direct embattled Health Secretary Francisco Duque III to step down from post amid calls for the latter's resignation due to the Department of Health's (DOH) supposed deficiencies in the handling of pandemic funds.
In his pre-recorded Talk to the People, Duterte said he has no plan to heed the public's clamor for Duque's "outright" dismissal.
"Maski kaming dalawa na lang ni Duque sa (If I and Duque will be left alone in) the rest of the Philippines, I will stand by him. 'Pag masira ako, wala (I don't care if I will lose the public's trust). But I will never abandon the person just like that," Duterte said.
Duterte reiterated that there is no basis to fire Duque.
"Gusto nila, si Duque, fire him, dismiss him. For what? Noon pa iyan, ilang buwan na iyan, gusto nila alisin si Duque. Sabi ko nga, wala naman akong nakita (It's been months since they have been calling for Duque's resignation. I don't see any reason [for his dismissal])," he said. "You have to observe fairness. Ako, fair lang talaga ako (I am just being fair)."
Duterte said Duque has come under fire after being "painted black" because of the Commission of Audit's (COA) audit report on DOH's spending of funds allotted for the coronavirus disease 2019 (Covid-19) pandemic response efforts in 2020.
While he is not blaming COA, Duterte expressed dismay that its audit report has already tainted Duque's reputation.
"The damage has already been done. Kasi nga, paglabas ng COA report, flagged, flagged, flagged (COA released a report that flagged [DOH]. Ang perception talaga ng tao (the public's perception), the popular notion is that you are flagged because there's corruption," he said.
Duterte said he does not mind receiving backlash after his decision to keep Duque as Health secretary.
"Kaya may nagsasabi na makakasira daw sa akin iyang si Duque (Some are saying Duque would ruin my reputation). Then, so be it," he said. "Hindi ko kaya 'yung kinuha ko si Duque, nilagay ko diyan tapos ngayon, 'yung COA, iba-iba ang findings, napinturahan siya ng itim, ako ang kumuha tapos (I could not stomach the fact that I appointed him and after the COA released its findings that painted him black) I will just fire him."
Duterte said he would only let go of Duque, if the latter resigns "voluntarily".
"Kung si (If) Duque will offer to resign voluntarily, tatanggapin ko (I will accept that). Pero kung sabihin mo ako ang magsabing sa kaniyang mag-resign ka (But if you would tell me that I should tell him to resign), that will never happen," he said.
Critics have renewed their calls for resignation, after the COA flagged the DOH's supposed failure to handle the PHP67.32 billion in Covid-19 response funds.
The COA later clarified that the observed deficiencies in the management of pandemic funds are not tantamount to the commission of corrupt activities.
On Aug. 19, Duque said Duterte had asked him to stay after his several attempts to vacate his post. (PNA)