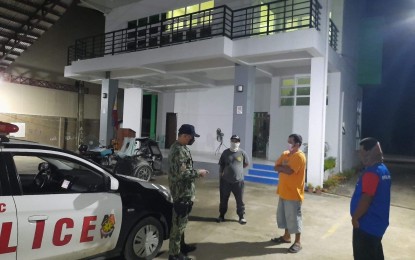 LAOAG CITY – The Ilocos Norte Police Provincial Office (INPPO) reported Friday the apprehension of 205 quarantine violators in a week while most parts of the province are under the localized enhanced community quarantine.
Latest data from the INPPO from August 23 to 29 shows that most, or 118 of the violators, were those who roam around without properly wearing a face mask, 33 violated curfew hours which is currently being implemented from 9 p.m. to 4 a.m., while 28 were apprehended for not following social distancing.
Others have violated the liquor ban as they were caught in the act by police officers who have intensified their monitoring and patrolling operations, particularly during nighttime.
Of the 21 towns and two cities, the thickly populated areas here, which has also the most number of infections, topped the most number of quarantine violators. This was followed by the towns of Badoc, Piddig, Batac, Dingras, and San Nicolas.
"We would like to remind our province mates to follow the preventive measures to keep ourselves safe and protected from the disease," according to the INPPO public advisory citing law enforcers are merely implementing the law.
Since the implementation of a strict quarantine protocol, the Ilocos Norte police have sought the help of netizens to report quarantine protocol violators if they happen to see one.
This resulted in hundreds of apprehensions as netizens simply send real-time photos or videos of violators to the official Facebook page of the municipal, city, or provincial police station or call local hotline number 09457187074 for immediate action.
In a separate interview, Vice Governor Cecilia Araneta-Marcos appealed to all residents to obey the government as it is doing its best to serve and protect the people, particularly from the coronavirus disease 2019 (Covid-19).
"The best for Ilocos Norte is for residents to obey the government. We appeal for understanding that we don't wish to collect money. The point is for everyone to obey because it is for everyone's protection," she said.
Since April last year, the Ilocos Norte board has passed Provincial Ordinance No. 2020-04-025 which is meant to further encourage people to stay home and avoid roaming around if not necessary.
In Ilocos Norte, violators of all existing provincial executive orders, issuances and directives related to President Rodrigo Duterte's Proclamation No. 922, declaring the country under a state of public health emergency due to Covid-19, will be slapped with a penalty ranging from PHP1,000 to PHP5,000 or its equivalent community service. (PNA)