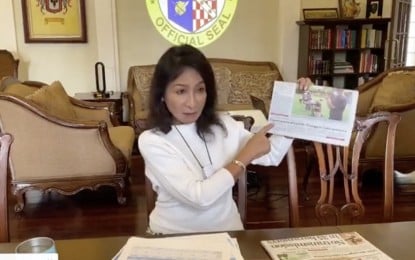 CEBU CITY – The provincial government of Cebu announced that the ban on the entry of live hogs, pork and pork products from Iloilo which expired on Dec. 12 will be extended for another six months and now includes the province of Guimaras.
Governor Gwendolyn Garcia said in a press conference on Thursday night the extension of the ban is effective until June 30, 2023.
"We are actually continuing the very, very strict monitoring on all ports and we continue to prohibit the entry of pork, live hogs, and pork-related products coming from Panay Island. This will now extend to Guimaras because there are now cases that have been discovered," Garcia said.
The governor tasked the provincial veterinarian to verify the reported African swine fever (ASF) cases in Guimaras.
She assured Cebuanos there will be enough pork supply in the province during the Yuletide season, noting that Cebu has several pig farms, including backyard raisers that "have increased considerably" in number due to the loan programs extended by government financial institutions.
Most of the beneficiaries of the program, she said, were small-scale farmers who availed of the interest-free loan with a two-year grace period and a five-year repayment scheme.
Although the ASF has affected the country's hog industry, Garcia said the situation became an opportunity for Cebu-based swine raisers.
"We have made Cebu ASF-free and we continue to be ASF-free. This gives really much opportunity to hog raisers to be able to supply other areas and, in fact, we really are supplying other areas that have been stricken with ASF," the governor said.
The Department of Agriculture (DA) reported the first ASF case in Guimaras province on Dec. 16.
According to a media report, the specimens from Barangay Sawang in Buenavista town that were received by the agency on Dec. 15 tested positive for the virus the following day.