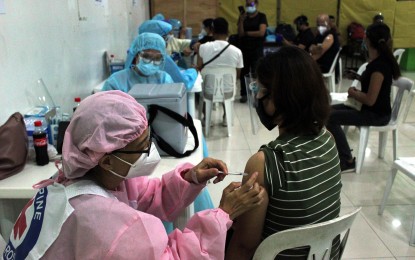 MANILA – Agusan del Sur Governor Santiago Cane Jr. on Tuesday said they have started vaccination for the province's indigent population or individuals under the A5 priority list of the Covid-19 vaccination program.
In an interview on Presidential Communications Operations Office' Network Briefing News, Cane said over 58,000 individuals from categories A1 to A4 have been fully vaccinated based on the data from the regional office of the Department of Health.
He said they have intensified their information campaign on the vaccines and the health risks of Covid-19 especially for the vulnerable sectors, since misleading information about the pandemic and the vaccines have been rampant.
"We initiated an intensified information campaign on Covid-19 vaccination. And we are bringing this to all areas including those in far-flung communities in partnership with our BHERTs, BHW, and our Rural Health Unit employees in the municipalities, cities, and the whole province," Cane told NBN host, Communications Secretary Martin Andanar.
Cane admitted that there are still some of his constituents who are hesitant of the vaccines but he clarified that according to DOH, the vaccines will help protect the people from experiencing severe symptoms of Covid-19 once they are fully vaccinated.
He said majority of the residents believe in the benefits of the jab.
"We are doing all of these because the majority of our people in our province believe that the vaccine is a huge help for those who are vulnerable to Covid-19," he added.
He also advised Agusanons to register for the vaccine.
"My advice to our constituents here in Agusan del Sur, if you have not yet registered, please visit the nearest health center and register for the vaccine," he said, adding that he is fully vaccinated against the virus.
"The health of one person is very important in order for us to have a healthy community. The interest for good health should emanate from each and every individual. That is our principal here," he said. (PR)