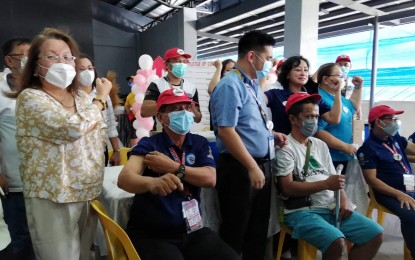 MALASIQUI, Pangasinan — The Department of Health Center for Health Development in the Ilocos Region (DOH-CHD-1) has recorded 1.1 million individuals who have received the coronavirus disease 2019 (Covid-19) booster shots as of Sept. 7.
Based on the data obtained by the Philippine News Agency on Wednesday, there were 28,199 individuals added to the number of residents inoculated with booster shots from Aug. 28 to Sept. 6.
The number is 27 percent of the target population in the region but almost within the goal of the "PinasLakas" booster vaccination campaign.
PinasLakas is targeting to provide booster shots to some 1.7 million residents until Oct. 8 this year.
It also aims for 90 percent vaccination of senior citizens to complete the first and second doses, and provide booster shots to 50 percent of the 12 years old and above population.
The program complements President Ferdinand Marcos Jr.'s directive on mass vaccination against Covid-19 for his 100 days in office.
The DOH-CHD-1 has allotted PHP11 million for the hiring of over 500 nurses to further boost the vaccination drive in the region.
The 250 nurses will be deployed to Pangasinan and the rest to Ilocos Sur, Ilocos Norte, and La Union. The nurses will be under a contract of service.
Glen Ramos, DOH-CHD-1 media relations officer, earlier said all the job order nurses in the regional office were already sent out to the communities as augmentation.
Meanwhile, there are now 3.8 million fully vaccinated individuals in the region as of Sept. 7 with 84 percent coverage on senior citizens.
The average number of Covid-19 daily cases in the region is now at 62.