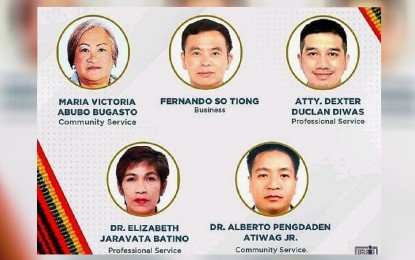 BAGUIO CITY – The city government will recognize five individuals during the 112th charter anniversary on September 1 in a simple celebration that will be done online.
Dr. Elma Donaal, president of the Society of Outstanding Citizens of Baguio (SOCOB) and chairperson of the annual search, in a phone interview on Friday said the award "is the highest recognition that the city government (gives) to a citizen".
The awardees are Maria Victoria Abubo Bugasto and Dr. Alberto Pengdaden Atiwag Jr., for Community Service; Fernando So Tiong, for Business; and Atty. Dexter Duclan Diwas and Dr. Elizabeth Jaravata Batino, for Professional Service.
SOCOB, a non-government organization composed of former awardees, conducts the search based on an authority provided for in a City Ordinance approved in 2007.
"It is the highest recognition of the city and as the implementing group, we do the screening process which is in three stages. Each layer has committee members publicly known only during the awarding on September 1 to avoid lobbying and assure the integrity of the annual search for Outstanding Citizens," she said.
The awarding highlights the annual program for the celebration of the foundation day every September 1. However, with the coronavirus disease 2019 (Covid-19) pandemic, what used to be a big celebration will be done online with no fanfare and limited participants.
"Let us continue to show our resiliency and move forward as one as we celebrate the 112 colorful years of our beloved Baguio! Join us in these exciting activities in line with our 112th Charter Anniversary celebration! You can also witness the different activities at the comfort of your homes through our official pages," the city government said in a post at the Public Information Office social media page on Friday.
Mayor Benjamin Magalong had issued series of Executive Orders to limit the movement of people as well as the conduct of activities as a measure to avoid the possible spread of the Covid-19 virus especially with the Delta variant already detected in the city. (PNA)