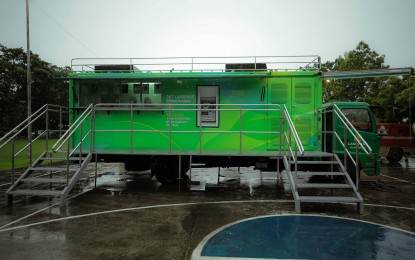 CITY OF SAN FERNANDO, Pampanga – The Land Bank of the Philippines (Landbank) on Wednesday officially inaugurated its first mobile facility here serving as a pop-up branch to reach more Filipinos in underserved communities.
"We are very proud to inaugurate today the very first Landbank mobile branch in the country, right here, especially first in the City of San Fernando," Landbank branch banking sector executive vice president Julio Climaco Jr. said in an official social media account post.
Climaco said the mobile facility will function as a pop-up branch in various areas across the country.
"Financial services in the event of calamities and alike situation, this is the main reason why we are launching our mobile branch. On the go to serve where we are needed the most. This will be very useful lalo na pag may mga calamities tulad ng bagyo (especially if there are calamities such as typhoons), earthquakes and other events," he said.
Climaco thanked Mayor Edwin Santiago for his support in realizing their latest innovation in banking.
Santiago cited the importance of the Landbank mobile branch in the distribution of cash grants and social ameliorations under the local government unit's (LGU) social services and programs.
"This Landbank mobile branch will establish efficient, safe, and secured disbursement of cash assistance especially to our most vulnerable groups, prioritizing the seniors, persons with disabilities, and local Pantawid Pamilyang Pilipino Program (4Ps) beneficiaries," he said.