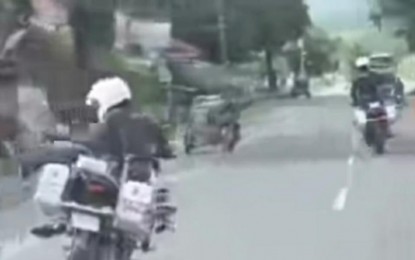 MANILA – The Philippine National Police (PNP) on Thursday confirmed that the two riders caught in a viral video while doing dangerous motorcycle stunts along a highway in Zambales are police officers.
In a statement, PNP chief, Gen. Guillermo Eleazar said the two riders -- Master Sgt. Israel Bondoc and Master Sgt. Manuel Tolentino -- are assigned at the Police Regional Office (PRO)-3 (Central Luzon).
Eleazar said that he has already directed PRO-3 director, Brig. Gen. Valeriano de Leon and the Highway Patrol Group to conduct a proper investigation as part of the disciplinary measures in the PNP.
The two policemen were shown in the video doing motorcycle stunts which some netizens described as irresponsible due to blatant violations of traffic rules and regulations on road safety.
Some netizens also called the attention of Eleazar over observations that the two riders are wearing police uniforms.
After watching the video, Eleazar immediately ordered the conduct of an investigation, saying what the two riders did was dangerous and clearly puts the safety of other motorists, commuters, and pedestrians at risk.
Eleazar said he expects an immediate result of the investigation and imposition of appropriate penalties for the two policemen.
"Let this serve as a warning that we will not tolerate this kind of misbehavior because as police officers, we should serve as the role models in abiding by the laws that include traffic rules and regulations," he added. (PNA)