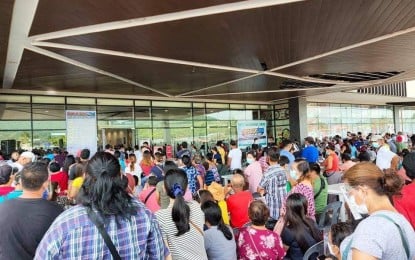 TACLOBAN CITY – The arrival of US-made Johnson & Johnson's Janssen doses in the city has helped in increasing the number of senior citizens vaccinated against coronavirus disease 2019 (Covid-19).
City health officer Gloria Fabrigas said from the less than 400 seniors vaccinated last week, the number rose to nearly 1,500 as of Wednesday.
"More elderlies wanted to get the vaccines. Number one is I think because this is Johnson & Johnson and the vaccine is only (a) single shot. This brand of vaccine was only allocated for elderlies and those with comorbidities, but we allowed the inoculation to other health workers since some of them are allergic to Sinovac then AstraZeneca," Fabrigas told reporters late Wednesday.
The Department of Health has allocated 10,000 doses of Janssen vaccines for this city. The vaccination held at two Robinsons Malls in the city started on July 20 and will conclude on July 22.
The supply is part of the 131,000 doses of vaccines shipped to Eastern Visayas on Monday.
To expand the vaccination coverage, those who would accompany a senior citizen and persons with disabilities (PWD) also get the anti-Covid-19 shot.
A team validates if the watcher of an elderly is also a resident of the city.
"Hopefully, the DOH will allocate more Janssen vaccines to us," Fabrigas added.
The city government is eyeing to give vaccines to 70 percent of its population, or more than 180,000 out of its 250,000 residents.
Earlier, the Department of Health regional office here admitted that the region is facing a problem giving vaccines to senior citizens due to several concerns such as misinformation.
"The arrival of 131,200 doses of Johnson & Johnson's Janssen vaccine, commonly referred to as J&J or Janssen vaccine is expected that more target areas classified as geographically isolated and disadvantaged areas with senior citizens and adults with comorbidities, will be reached, making it easier for the region to roll out and further expand its vaccination drive," the DOH said in a statement on Wednesday.
"The primary goal for this single-shot vaccine is to give accessibility to communities isolated due to distance and transportation difficulties, since they don't have to come back for a second dose, potentially easing its distribution," the statement added.
As of June 20, Eastern Visayas has already received at least 663,950 doses of Covid-19 vaccines from the national government.
A total of 268,029 individuals got their first dose, while 119,720 got the second dose or were classified as fully vaccinated.
As of July 22, Eastern Visayas has already recorded a total of 34,385 Covid-19 cases, 32,607 recoveries, and 414 reported deaths. There are presently 1,364 total active cases. (PNA)