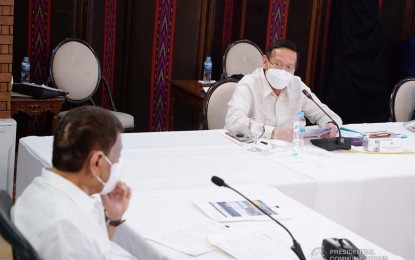 MANILA – The transfer of PHP42 billion from the Department of Health (DOH) to the Department of Budget and Management (DBM) last year for the purchase of face masks and coronavirus disease 2019 (Covid-19) test kits were intended to fast-track acquisition of supplies.
DOH Secretary Francisco Duque III, appearing before the Senate Blue Ribbon Committee hearing on Friday, said the decision was brought about by the acute need for the masks and other personal protective equipment (PPE) as supplies were also distributed to areas affected by the Taal Volcano eruption and the subsequent ashfall in January 2020, or two months prior to the pandemic.
Duque said the fund transfer to the DBM Procurement Service (PS) was made over several periods, "depending on what we needed at the time".
"At the time, walang wala po. Hirap na hirap kami (we ran out of supplies. We had a hard time obtaining masks and PPE)," Duque said.
Former DBM procurement head, Lloyd Christopher Lao, said the government-procured masks were priced between PHP16 and PHP27, higher than the PHP5 apiece paid acquired by the Philippine Red Cross, because the DBM-PS did not have wide access during the time and there was "not enough time, not enough resources".
"Red Cross at the time had a better network of suppliers," Lao said, explaining the differences in prices.
He assured there is no truth to reports of substandard face masks as a third-party testing facility examined the supplies, paid for by the bidder.
Duque also said the DOH will be able to settle outstanding Special Risk Allowance of health care workes within two months as soon as the validated list of qualified workers is finalized. (PNA)