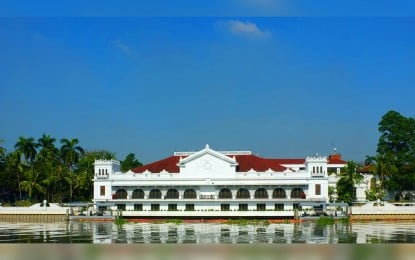 MANILA – President Rodrigo Duterte has no time to engage in premature campaigning for his administration's candidates in the May 9, 2022 national and local elections, Malacañang said Wednesday.
"I don't think he has paid too much attention to premature campaigning," Presidential Spokesperson Harry Roque said when asked about Duterte's stance on early campaigning.
Roque, nevertheless, acknowledged that the administration bets have the advantage to get "command votes," regardless of their popularity, considering that the government is doing its best to defeat the coronavirus disease 2019 (Covid-19).
"Whether or not [a candidate] is popular, the fact that number one, there is a pandemic now, it makes command votes even more important for the success of a candidate," he said.
Roque added that election hopefuls included in Duterte's ticket in 2022 will also get the full support of the President's allies.
"I think that the advantage of being an administration candidate is you have the entire administration behind you," Roque said.
The campaign period for national and local positions is set to begin on Feb. 8 and March 25 next year, respectively.
National and local candidates will then have until May 7, 2022 to campaign.
Duterte's ruling party, the Partido Demokratiko Pilipino-Lakas ng Bayan (PDP-Laban), has fielded Senators Ronald "Bato" dela Rosa and Christopher Lawrence "Bong" Go, or the so-called "BaGo" tandem, in the 2022 elections.
Go was originally nominated as PDP-Laban's presidential candidate. He, however, rejected the nomination and instead opted to run for vice president after Duterte dropped his plan to seek the said post.
On the other hand, dela Rosa's candidacy for president came as a surprise, as the public was expecting Davao City Mayor Sara Duterte to be paired with Go.
According to the results of the September 6 to 11 survey conducted by private polling firm Pulse Asia, Sara still emerged as the top pick among the preferred presidential candidates in the 2022 elections.
Dela Rosa's name was not included in the Pulse Asia survey.
Roque expressed confidence that dela Rosa, being the administration's standard-bearer, would eventually gain the Filipino voters' trust.
"You cannot discount that even if Senator Bato is now lagging in the polls, he will find himself number one soon [in the pre-election surveys]," he said.
Sara's supporters, including Roque, are still optimistic that she would consider taking the place of dela Rosa despite her firm stance that she wants to seek reelection as Davao City mayor for the last time.
On October 15, PDP-Laban secretary-general Melvin Matibag said the "BaGo" tandem is already "100 percent final," adding that the ruling party is not waiting for any candidate to replace either dela Rosa or Go.
Duterte, in a speech delivered in Iligan City, Lanao del Sur on October 16, urged the candidates of the PDP-Laban in next year's polls to protect the integrity of elections. (PNA)