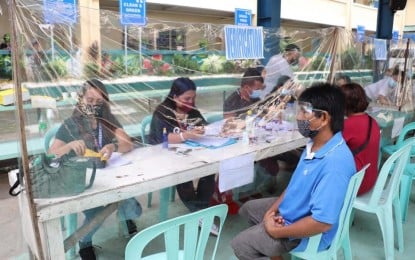 MANILA – The Quezon City government has already distributed 80.58 percent of national government financial aid for families and individuals affected by the enhanced community quarantine.
From Aug. 11 to 23, the city distributed PHP1,999,885,000 for 1,999,885 residents, or 637,272 families, a Facebook post on Tuesday indicated.
For transparency, the city government published a daily cash assistance distribution tracker of the aid.
Village officials implemented face-face-face distribution but with strict adherence to safety protocols.
QC received PHP2.48 billion from the national government intended for about 850,000 families.
Individuals of low-income families received PHP1,000 each while each household is entitled to a maximum PHP4,000.
"If you have questions, issues or complaints about the list, you may approach your barangay or the Grievance Committee at the distribution venue on your scheduled date," the city government advised.
Meanwhile, QC reminded residents that online transactions are available through QC Pay Easy, the city's electronic facility that will make payment more convenient for taxpayers and business owners.
"Paying taxes should not be taxing. That's why the local government is keen on delivering cost-efficient and practical solutions such as this to address the woes of our taxpayers and business owners," Mayor Joy Belmonte said in a statement.
City Administrator Michael Alimurung said the payment system will save time and effort as well as limit face-to-face interactions.
"Through Pay Easy, we are able to respond to the call of the Anti-Red Tape Authority and comply with the Ease of Doing Business Act," he said. (PNA)