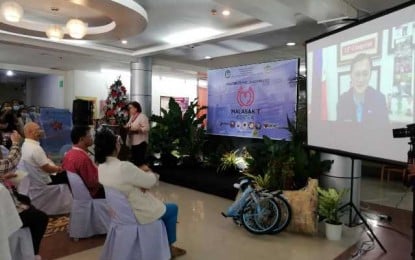 SAN JOSE DE BUENAVISTA, Antique – The Malasakit Center in Antique has disbursed almost PHP 7 million since January 2021 up to the present and has assisted 41 indigent Antiqueño patients in their hospital care and medicines.
Patients no longer have worries when they are about to be discharged because the center assists them with their hospitalization, Dr. Jose Lyndion Perez, chief of the Angel Salazar Memorial General Hospital (ASMGH), said on Thursday.
ASMGH is the primary referral facility for coronavirus disease 2019 (Covid-19) patients in the province and where the center is located.
"There were 41 patients of whom nine were Covid-19 patients who were catered by the ASMGH's Malasakit Center and had availed of the fund since January 2021 up to now," Perez said in an interview.
The center covers for the remaining bill after the Philippine Health Insurance Corporation (PHIC) coverage and the Medical Assistance to Indigent Patient (MAIP) are deducted, he said.
Deo Patrick Cabrillos, whose nephew availed of the center's support, was admitted at the ASMGH on June 7 and discharged on June 21.
"Since the entire family of my nephew was identified as the first layer (Covid-19) infection and placed under home quarantine then, I had to assist him at the ASMGH," Cabrillos said.
The staff of the hospital helped process their discharged documents and except for the other medicines that were unavailable at the ASMGH and needed to be bought outside of the hospital, they left the hospital with a zero balance.
"Financially, we did not have much difficulty because of the Malasakit Center," Cabrillos added.
The center in Antique was established on November 13, 2020, making it the 91st center to be opened in the country.
It was conceptualized to streamline the government process and enable indigent patients to avail of financial assistance. (PNA)