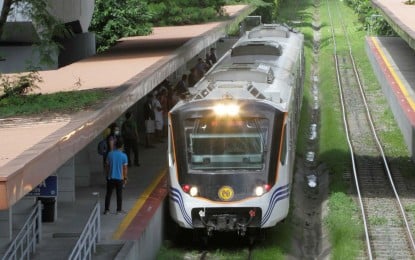 MANILA – A leader of the House of Representatives on Thursday lauded the almost five-fold increase in the proposed funding totaling PHP113.99 billion for next year to modernize the country's railways as it would help solve the Philippines' transportation problems.
In a statement, House Majority Leader Manuel Jose "Mannix" Dalipe said the "massive increase" to finance the expansion of the country's railways shows the Marcos administration's commitment in developing a "fast, efficient, and easily accessible mass transportation system" and in decongesting traffic in Metro Manila and other metropolitan areas.
Dalipe noted that the proposed budget for railway modernization swelled to PHP113.99 billion for 2023, which is almost five times the previous budget of PHP23.12 billion in 2022.
He said next year's proposed budget would finance various big-ticket railway projects, particularly in building an additional 1,200 kilometers of railways which could provide transportation for 4.5 million passengers a day.
"We are happy that the new administration's thrust in solving our transportation problem is to expand and modernize our railways. This should have been the priority a long time ago and we would never have to endure the monstrous traffic in Metro Manila. The railway is still the easiest and fastest way to transport people, not cars," Dalipe said.
"We will not just solve our traffic problem but we can also decongest Metro Manila's population. If we have a modern rail system. Filipinos would definitely choose to live outside of Metro Manila," he added.
He also lauded the appointment of Transportation Secretary Jaime Bautista and Undersecretary for Rails Cesar Chavez, both of whom are experts in the railway and transportation sector and have a very deep background in the various railway projects that are part of the government's long-term development agenda.
Their appointments, he said, show President Ferdinand Marcos Jr.'s resolve in fulfilling his promise to develop a world-class national railway system.
"Our long-term goal should be to continuously increase the coverage of our light rail system in Metro Manila and its nearby provinces and extend our rail connection to Luzon, Visayas, and Mindanao," he said.
In his first State of the Nation Address, Marcos said he is determined to continue his predecessor's ambitious "Build, Build, Build" infrastructure program but with a new focus on developing the country's railway system.
"We shall confidently build on this firm foundation established by my predecessor. As it is in building an edifice. We must keep the momentum. And aspire to 'Build Better More,'" Marcos said.
Marcos said the government missed a great opportunity to develop our rail transport system.
"It is clear in our mind that railways offer great potential as it continues to be the cheapest way of transporting goods and passengers," he added.
Marcos pointed out that there are a dozen rail projects -- at ground, above the ground, and below ground, not just in the National Capital Region, but in five other regions -- at various stages of implementation, and with a combined cost of PHP1.9 trillion.
He also said larger scale railway systems like the 102-kilometer Mindanao Railway Project; Panay Railway Project; and Cebu railway system could be integrated as a vital part of the transport and communications systems.
Marcos directed the Department of Transportation (DOTr) to build upon already existing lines by modernizing old railway systems.
"Full speed ahead! Improving our railway system, along with modernizing existing airports and seaports, will maximize our strategic location in the Pacific. And connect our many islands," he said.
He also maintained that his administration is committed to finish building the current portfolio of investments: approved railway projects such as the North-South Commuter Railway System; the 33-kilometer Metro Manila Subway Project; the 147-kilometer North-South Commuter Railway System; the 12-kilometer LRT-1 Cavite Extension; the 23-kilometer MRT-7 and the Common Station that will connect LRT-1, MRT-3 and MRT-7. (PNA)