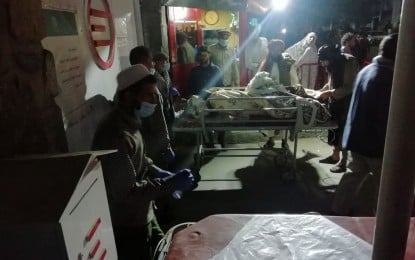 MANILA – The Department of Foreign Affairs (DFA) on Friday said no Filipino has been wounded in the suicide bomb attack at Kabul airport that killed scores of civilians and 13 American troops.
"Preliminary information from Philippine Ambassador Daniel Espiritu, who is based in Islamabad, Pakistan, indicates that there were no Filipino casualties at the suicide bombings at Kabul airport yesterday," Foreign Affairs Assistant Secretary Eduardo Meñez said in a text message.
The Islamic State Khorasan (ISIS-K) claimed responsibility for the attack, which was carried out as the United States and western nations are scrambling to ferry out its citizens and other nationals out of Kabul before the August 31 deadline set by the Taliban.
US President Joe Biden vowed that America would hunt down the perpetrators.
"To those who carried out this attack, as well as anyone who wishes America harm, know this: We will not forgive. We will not forget. We will hunt you down and make you pay," he said in a televised briefing on August 26.
Biden said the ISIS-K, the arch-enemy of Taliban, had been planning a "complex set of attacks" on the US and others over the past few weeks.
A day before the bombing, the US, Australia, and the United Kingdom issued a warning on its citizens to "avoid traveling to the airport" unless given instructions and leave the Abbey Gate, East Gate, or North Gate immediately due to "ongoing and very high threat of terrorist attack" in the country.
Since the Taliban seized the capital, 185 Filipinos have been safely evacuated out of Afghanistan while 24 are still in the country.
Of this number, 16 are seeking repatriation and the Philippine government has repeatedly vowed to work with foreign governments and international organizations to ensure their exit. (PNA)