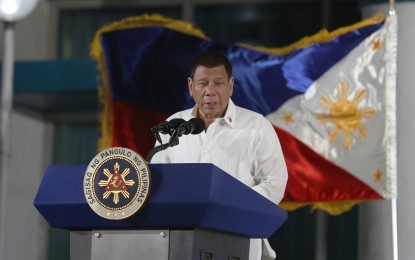 MANILA – President Rodrigo Duterte has accepted his nomination as the vice presidential candidate of his ruling party, the Partido Demokratiko Pilipino-Lakas ng Bayan (PDP-Laban), in the 2022 national elections.
Duterte's decision to seek the vice presidency next year was announced by PDP-Laban executive vice president and Cabinet Secretary Karlo Nograles in a statement issued Tuesday.
"President Rodrigo Duterte agreed to make the sacrifice and heed the clamor of the people, and accepted the endorsement of the PDP-Laban for him to run as vice president in the 2022 national elections," Nograles said.
Nograles said Duterte has heeded the call for him to run for vice president "to ensure that the country's Covid-19 (coronavirus disease 2019) vaccination program will be sustained in the critical stage of the pandemic where targets are steadily achieved."
In a virtual presser, Presidential Spokesperson Harry Roque confirmed that Duterte had a meeting with PDP-Laban president and Energy Secretary Alfonso Cusi and Presidential Assistant for the Visayas Secretary Michael Lloyd Diño on Monday night.
Roque, however, said he was not privy to Duterte's acceptance of PDP-Laban's call for the Chief Executive to run for vice president in 2022.
He added that he would let PDP-Laban make the "proper announcement" on Duterte's 2022 political plans.
"So, I can confirm nag-usap po sila pero (that they had a meeting, but) I do not have personal knowledge kung ano ang nag-transpire (what transpired). And I will leave it to PDP-Laban as a political party to make the proper announcement," Roque said.
Roque said Duterte might also make an announcement when he holds his regular Talk to the People on Tuesday night.
"Siguro po, yung kumprimasyon kung tatakbo siya sa pagiging vice president o hindi, manggagaling na mismo sa bibig ni Presidente (Perhaps, it will come from the President's mouth whether he will run for vice president or not)," he said.
The National Executive Council under Cusi-led PDP-Laban has issued a resolution endorsing the Go-Duterte tandem to "further strengthen the gains of the current administration toward the achievement of improved quality of life for every Filipino."
Go has said he would only seek the presidency if Duterte will be his running mate in the 2022 national elections.
Initial Senate slate
Meantime, Nograles also named at least four Cabinet secretaries and a House official who are included in the PDP-Laban's initial senatorial slate for the 2022 national elections.
Nograles named Chief Presidential Legal Counsel Salvador Panelo, Transportation Secretary Arthur Tugade, Public Works Secretary Mark Villar, Information and Communications Technology Secretary Gregorio Honasan II, and House Deputy Speaker Rodante Marcoleta as among the PDP-Laban's senatorial candidates next year.
The PDP-Laban will hold its national convention on Sept. 8 at San Jose del Monte Convention Center in Bulacan. (PNA)