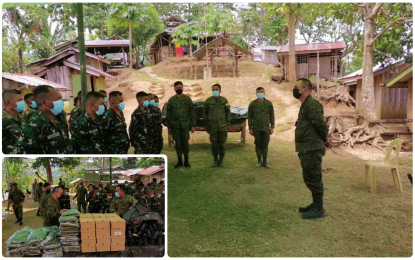 COTABATO CITY – Philippine Army (PA) chief, Major Gen. Andres C. Centino, has boosted the morale of troopers under the Army's 72nd Infantry Battalion (IB) in a visit to a far-flung detachment of the military unit in Bukidnon and its headquarters in North Cotabato on Tuesday.
In a statement on Wednesday, the 72IB said Centino first visited the Civilian Armed Force Geographical Unit Active Auxiliary (CAA) patrol base in Barangay White Kulaman, Kitaotao, Bukidnon.
The CAA base is one of the 72IB units categorized under the Geographically Isolated and Disadvantaged Areas (GIDAs) in the province.
During his visit, Centino commended the CAA unit in fending off advances of communist terrorists on the border of Bukidnon and North Cotabato provinces.
"I strongly urge you (the CAAs) to continue efforts in attaining peaceful and conflict-resilient communities in the province of Bukidnon," Centino said.
After he was briefed about the threat situation and deployment of troops in the area, Centino personally handed over boxes of canned goods and military supplies to the unit.
Thereafter, he proceeded to the headquarters of the 72IB in Arakan, North Cotabato to also check on the troopers on the ground and deliver materials and supplies needed to assist them in performing their duty.
During his talk to the troops, Centino expressed his support and commended the troops' continuous effort in protecting communities from threats posed by communist terrorist groups amid the pandemic.
"I am counting on you in winning this fight against the insurgents. We are already on the right track," he told the troopers.
Centino then led the donning of ranks to four newly promoted enlisted personnel and awarding of Silver Cross Medal to personnel of the intelligence team under 72IB for a successful operation that led to the capture of two high-ranking New People's Army communist cadres in President Roxas, North Cotabato on Nov. 9, 2020.
For his part, Lt. Col. Jose C. Regonay Jr., 72IB commander, has vowed to do everything to contribute to the military's campaign in permanently ending communist insurgency in their area of responsibility. (PNA)