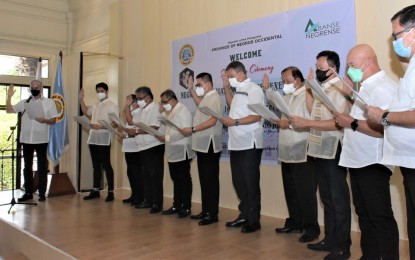 BACOLOD CITY – The 32 city and municipal mayors of Negros Occidental, including this capital city, have expressed support for the bills filed in the House of Representatives for the creation of the expanded Negros Island Region (NIR).
The move is stated in Resolution 4, series of 2022 unanimously approved by the Negros Association of Local Chief Executives (ACE) led by its president, Mayor Javier Miguel Benitez of Victorias City.
"The re-establishment of One Negros and the inclusion of the province of Siquijor in one administrative region as an expanded NIR is necessary for faster coordination and implementation of public programs, projects, and initiatives," a portion of the resolution read.
A copy was made available to reporters during the meeting and oath-taking rites of the Negros ACE officers at the Social Hall of the Provincial Capitol here on Wednesday.
The resolution pointed out that an "administrative region enjoys a degree of independence in planning, management, and administration, resulting in convenience in doing business between the provinces and efficient utilization of the available resources."
It also stated that under an expanded NIR, "several regional government offices will be more accessible to the people, making governance closer to the grassroots and communities, producing boon ripple effects on the peace and order, economic growth, and social development."
"Greater economic coordination will strengthen (the) economics of scale in the provinces of Negros Occidental, Negros Oriental, and Siquijor, and will consolidate separate development plans into a coherent, complementary roadmap for sustainable and inclusive growth," the resolution added.
Currently, Negros Occidental is part of Western Visayas (Region 6) while Negros Oriental and Siquijor are under Central Visayas (Region 7).
In the 19th Congress, Negros Occidental 3rd District Rep. Jose Francisco Benitez led a group of Negrense lawmakers in filing House Bill 1146, seeking to create a separate region for Negros Island and Siquijor to be known as Region 6-B.
"The challenge is to transform the economy of Negros Island to ensure that economic growth redounds to the benefit of the people. Here, the close economic coordination of the two Negros provinces is most crucial. Re-unifying the two Negros provinces under one administrative region, therefore, becomes necessary," the bill's explanatory note said.
On May 29, 2015, the NIR was first created through Executive Order (EO) 183 signed by then-president Benigno Aquino III, separating Negros Occidental from Western Visayas and Negros Oriental from Central Visayas.
However, on Aug. 7, 2017, former president Rodrigo Duterte issued EO 38 abolishing the NIR, stressing the need to ensure that priority government programs and projects are sufficiently funded. (PNA)