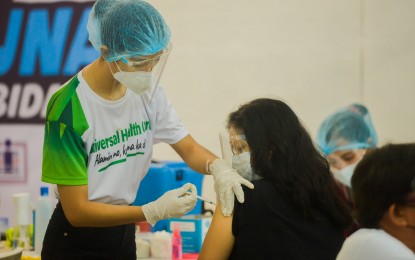 TACLOBAN CITY – At least 315,535 doses of coronavirus disease 2019 (Covid-19) vaccines have been administered in Eastern Visayas as of July 2, representing 95 percent of the available vaccines in the region, the Department of Health regional office reported on Monday.
Of the total, 224,696 residents got the first dose and 90,839 received the second dose.
The region has already received the shipment of 404,140 doses of vaccines transported to 326 vaccination sites in six provinces.
DOH Eastern Visayas regional director Exuperia Sabalberino said the government's intensified vaccination drive is now ongoing especially for health workers, elderlies, and those with comorbidities.
"The public is reminded to coordinate with their local government units for vaccine registration and get vaccinated, following the government's prioritization framework, in order to get maximum protection against the severe form of Covid-19," Sabalberino said.
The health department admitted that some health workers got infected even after receiving the vaccine, but declined to disclose figures.
There is still a chance that those vaccinated will still be infected especially if the viral load is high but the public is assured that even if they get the virus, the infection will not be severe, she added.
As of July 4, the region has already recorded 31,154 confirmed Covid-19 cases, including 28,500 recoveries, 2,260 active cases, and 394 deaths.