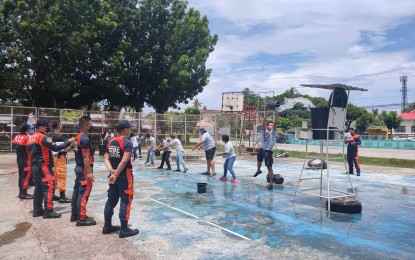 SAN JOSE DE BUENAVISTA, Antique – Twenty-five barangays (villages) in Antique's capital of San Jose de Buenavista are showcasing their disaster response skills in the ongoing Rescue Olympics.
The July 26-29 competition gathered barangay tanod (security personnel) and volunteers from 25 barangays, all earlier trained in First Aid and Basic Life Support and firefighting, said Cleofe Amedo, information researcher I of the San Jose de Buenavista Municipal Disaster Risk Reduction and Management Office (MDRRMO).
"The Rescue Olympics is being held as part of the celebration of the 2022 National Disaster Resilience Month where the barangay responders (tanods and volunteers) who had participated in the previously conducted refresher course are able to showcase their skills," she said.
The San Jose de Buenavista MDRRMO, Emergency Medical Services (EMS), and the Bureau of Fire Protection (BFP) conducted refresher training for the 25 barangays last June and the early part of July.
BFP San Jose de Buenavista Fire Officer 1 Ramil Escander said through the Rescue Olympics he is now confident that barangay responders could help them as force multipliers whenever there would be an emergency case or disaster.
"The responders who are situated right in their own barangays are expected to be the first ones to assist us in case of fire incident," he said.
The participants competed in hose throwing and folding and bucket relay for the firefighting category on Wednesday. (PNA)