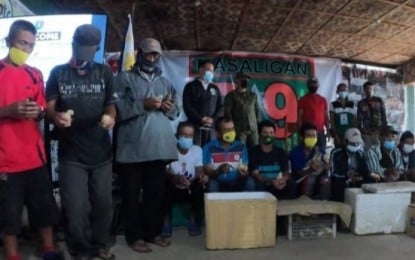 BACOLOD CITY – Some 25 former Communist Party of the Philippines-New People's Army (CPP-NPA) rebels from Don Salvador Benedicto, Negros Occidental recently received 250 heads of free-range chicks as livelihood assistance from the Provincial Veterinary Office (PVO).
The project turnover on Aug. 11 was facilitated by the Philippine Army's 79th Infantry Battalion (IB) during a consultation dialogue at its headquarters in Barangay Bato, Sagay City.
Lt. Dansan Camua, civil-military operations officer of the 79IB, told the Philippine News Agency on Monday that the former rebels were among the surrenderers from northern Negros.
"They are now processing the requirements to avail of the benefits under the E-CLIP (Enhanced Comprehensive Local Integration Program)," he said.
In a statement, provincial veterinarian, Dr. Renante Decena, said the PVO has been a partner of the Philippine Army and other government agencies in providing livelihood assistance to former rebels.
"These are suitable business ventures at this time. The dispersed animals are of high-quality stocks and seen to boost backyard free-range production in the province," he added.
Decena said the stocks provided to the former rebels are of high-quality protein and budget-friendly, especially for aspiring small-scale farmers who cannot afford to buy commercial feeds.
Free-range chicken requires low-cost production inputs in terms of housing and feeds, the PVO chief said.
E-CLIP reintegrates former rebels back to the community to be with their families and for them to start over.
The benefits include reintegration assistance; firearms, explosives, and ammunitions remuneration; immediate assistance of PHP15,000; livelihood assistance worth as much as PHP50,000; livelihood materials, and implements or employment assistance; access to government services; medical and legal assistance; housing; modified conditional cash transfer; loan and market access; alternative learning system; psychosocial assistance; college tuition and stipend; and conditional transitional grant.
The CPP-NPA is listed as a terrorist organization by the United States, European Union, the United Kingdom, Australia, Canada, New Zealand, and the Philippines. (PNA)