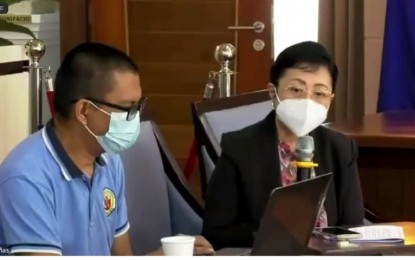 ILOILO CITY – Iloilo City is intensifying its health drive to curb the rising cases of dengue and boost the number of takers of the coronavirus disease 2019 (Covid-19) booster shot.
Dr. Roland Jay Fortuna, City Health Office (CHO) focal person for Covid-19, on Wednesday said from July 1 to 18, 2022, Iloilo City has 906 cases.
"We have a high average daily attack rate at 11.36 percent. We started in June with 0.19 or minimal risk, moderate risk on July 10, and high risk starting July 11," he said in an interview.
Currently, Iloilo City's health care utilization rate is at 47.58 percent, which is still considered low-risk but it is slowly rising, he added.
Fortuna called on the eligible population to get vaccinated as he noted that the number of booster dose takers is low at only 39.72 percent as per July 17 data of the CHO.
"We encourage everyone to get their booster doses because it will be of big help when it comes to Covid-19. Majority of our cases have mild symptoms but if you have comorbidities there is a risk of getting severe that could lead to death," Fortuna said.
There were 507,918 or 130.33 percent of the eligible population from 5 years old and above who received their first dose and 497,011 or 127.53 percent who are already fully vaccinated.
Meanwhile, CHO officer-in-charge Dr. Annabelle Tang expressed worry over cases of dengue this year, now at 289 with one death from January 1 to July 16, an increase of 45 percent compared to the same period last year.
"The affected ages range from six months to 75 years old but the most affected are the one to 10 years old. These are children," she said.
Cases are already present in the city's 108 out of the 180 barangays.
The last dengue outbreak in the city was recorded in 2019 when cases reached 3,345 with 16 deaths.
There were only 268 cases with two deaths in 2020 and 343 with zero casualties in 2021.
Tang called on other sectors to do their part by observing the "4S" strategy or the search and destroy mosquito–breeding places, secure self-protection measures from mosquito bite, seek early consultation upon signs and symptoms, and say "yes" to fogging operations during an impending outbreak.
The data on Covid-19 and dengue cases were presented during Tuesday's virtual meeting that gathered representatives from various sectors, including barangays, religious, and business sectors where Tang called for the support of community leaders and "proactive support" of everyone. (PNA)