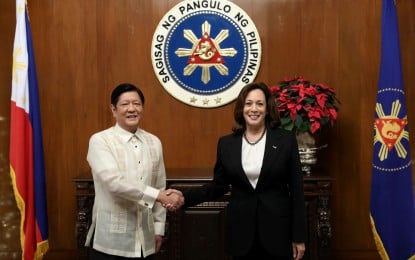 MANILA – President Ferdinand R. Marcos Jr. has sought for a possible cooperation with the United States on climate loss and damage during his bilateral meeting with Vice President Kamala Harris on Monday.
In a statement issued Tuesday, the Department of Foreign Affairs (DFA) said Marcos is interested to partner with Washington D.C. beyond climate mitigation and relief.
"(President Marcos) expressed interest in pursuing further discussions and possible cooperation with the US on the damage and loss concept, beyond mitigation and relief, to build on the discussions at the COP27," the agency said.
Loss and damage refers to climate change's negative impact that cannot be avoided by mitigation and adaptation, such as extreme weather events, sea level rise, and glacial retreat among others.
Last Sunday, the 2022 United Nations Climate Change Conference (COP27) in Egypt closed with a breakthrough agreement to establish a new fund to help vulnerable countries respond to loss and damage.
One of the main focus of Harris' trip to the Philippines is to spur cooperation on a range of issues, including advancing clean energy and addressing the climate crisis.
Among the United States' latest initiatives are the establishment of an energy policy dialogue as well as the launch of negotiations for civil nuclear energy cooperation or the so-called "123 agreement" .
The 123 agreement, once in force, would allow the US exports of nuclear equipment and material to support the country's energy security and climate goals.
Aside from climate change, Marcos and Harris also discussed peace and security against the backdrop of the global and regional developments.
The two underscored the importance of upholding an international rules-based regime and maintaining open communication lines between and among partners to prevent any miscalculations and misunderstandings.
"President Marcos reiterated the independent foreign policy adopted by the Philippines, which is based on national interest and the country's commitment to peace," the DFA said. (PNA)