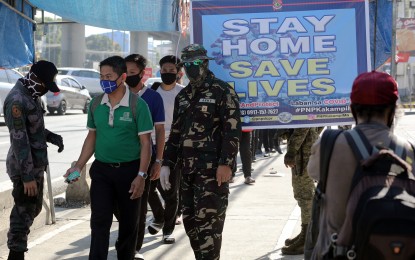 MANILA – Four more police officers have died of the coronavirus disease 2019 (Covid-19), bringing Philippine National Police's death toll to 96.
Data from the PNP Health Service showed that one of the patients was a 49-year-old policeman assigned in Central Visayas. He succumbed due to pneumonia secondary to Covid-19 on Aug. 14.
The second fatality was a partially vaccinated 34-year-old policeman, who had diabetes, assigned in the National Capital Region. He died on Aug. 16.
The third patient was a 41-year-old policeman also assigned in Central Visayas. He tested positive for Covid-19 on July 30 and after battling the virus for weeks, the patient succumbed on Aug. 15 due to critical pneumonia.
The fourth patient, a 48-year-old policewoman assigned to Camp Crame, tested positive for the disease on July 30 and was admitted to a treatment facility. She was transferred to a hospital due to a worsening condition but died on Aug. 14.
PNP chief Gen. Guillermo Eleazar said as of Aug. 17, a total of 81,125 or 36.51 percent of all PNP personnel are fully vaccinated while 95,345 or 42.92 percent are just awaiting the second dose.
He added that there are only 45,700 or 20.57 percent of police personnel who have not been vaccinated.
Another 176 new cases of Covid-19 among police personnel have been recorded, bringing the total number of cases to 32,631 with 1,985 active cases. (PNA)