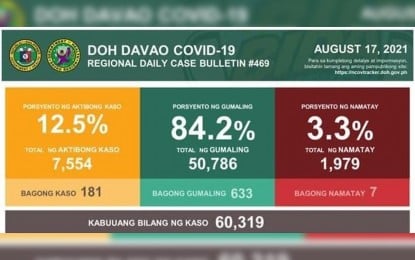 DAVAO CITY – The Davao Region has recorded 50,786 patients who have beaten the coronavirus disease 2019 (Covid-19), with 633 new recoveries logged as of Tuesday.
In its latest regional Covid-19 situation update, the Department of Health in Region 11 (DOH-11) said this accounts for a recovery rate of 84.2 percent out of a total of 60,319 confirmed Covid-19 cases since last year.
Out of the new recoveries, 328 are from this city, 162 from Davao del Norte, 55 from Davao Oriental, 38 from Davao del Sur, 35 from Davao de Oro, and 15 from Davao Occidental.
So far, Davao City tops the list of recovered patients with 28,995; followed by Davao del Norte, 9,978; Davao de Oro, 3,762; Davao Oriental, 3,619; Davao del Sur, 3,544; and Davao Occidental, 888.
However, 181 new Covid-19 cases in the region pushed the total number of active infections to 7,554.
All cases were reported as local transmission. Meanwhile, seven new deaths were recorded, pushing the death toll to 1,979.
With the current Covid-19 caseload, the DOH-11 said 27.9 percent of the region's intensive care unit beds dedicated to Covid-19 patients are unused, along with 48 percent of isolation beds, 42.2 percent of ward beds, and 62.1 percent of mechanical ventilators. (PNA)