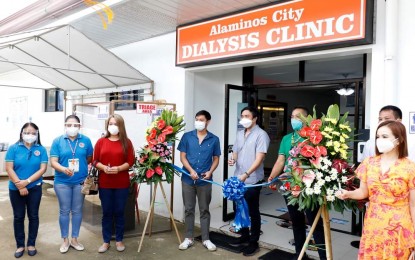 ALAMINOS CITY, Pangasinan – The city government has inaugurated a dialysis clinic that will serve not only the dialysis patients here but also those from the first district of Pangasinan.
In an interview on Tuesday, the City Health Office (CHO) said the dialysis clinic can accommodate 13 patients simultaneously and also charges lower compared to other centers.
"Priorities are residents of Alaminos but it is also available for residents of the first district of Pangasinan," it stated.
The city government allotted about PHP23 million for the building, treatment plant, personnel, among others, with a memorandum of agreement with the Corbridge Group Philippines Inc. that provided eight units of fully functioning hemodialysis machines, it added.
The project was started during the term of former city Mayor Arthur Celeste and completed under the term of Mayor Arth Bryan Celeste.
"I know that this will be a big help to those undergoing dialysis now. The Alaminos City Dialysis Clinic is here to serve the people. This is a step forward to a more progressive Alaminos," Celeste said in his message on Tuesday.
Meanwhile, Timothy De Leon, a resident of the city, thanked the city government for the project.
"Salamat po hindi na kailangang magbiyahe ng malayo. Sa Alaminos City mayroon na. (Thank you. There is no need to travel far since we already have it (dialysis center) in Alaminos City)," he said. (PNA)