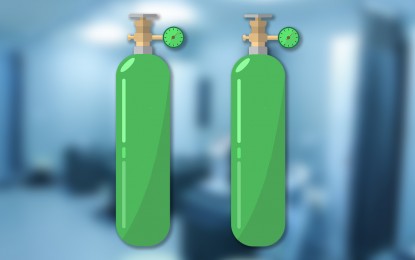 MANILA – The House of Representatives on Wednesday approved on second reading a measure exempting critical medical supplies, including medical oxygen, from any and all taxes during public health emergencies.
During the plenary session, the chamber passed through voice vote House Bill 8995 exempting the manufacture, importation, sale, and donation of critical medical supplies and essential goods during public health emergencies.
The measure was in line with President Rodrigo Duterte's request to Congress to provide tax relief to manufacturers of medical-grade oxygen.
Albay Representative Joey Salceda, one of the authors of the bill, said the end-to-end exemption will help bolster the country's stock of critical supplies, such as medical oxygen.
"We thank the House leadership, under Speaker Velasco, for passing this Presidential request urgently," Salceda said. "The bill comes at a good time when we are in need of these critical supplies."
The bill mandates the Secretary of Health and Secretary of Finance to draw up the list of goods subject to exemption.
The exemption will only be valid for the duration of the public health emergency.
Critical medical products refer to vaccines and other necessary medicines to contain public health emergencies.
Essential goods refer to personal protective equipment (PPE) such as gloves, gowns, masks, goggles, and face shields; surgical equipment and supplies; laboratory equipment and its reagents; medical equipment and devices; support and maintenance for laboratory and medical equipment, surgical equipment and supplies; medical supplies, tools, and consumables such as alcohols, sanitizers, tissue papers, thermometers, hand soaps, detergents, sodium hypochlorite, cleaning materials, povidone iodine; testing kits, and such other supplies or equipment as may be determined by the Department of Health (DOH) and other relevant government agencies.
The Secretary of Finance, upon the recommendation of the Secretary of Health and the Secretary of Trade and Industry, may also suspend the threshold on required export sales for availment of privileges under Title XIII of the National Internal Revenue Code of 1997, to allow manufacturers to sell to the domestic market.
"This will save lives. It will serve as a ready mechanism for this president and future presidents to use when a public health emergency is imminent or in place," Salceda said.
Duterte said the country really needs a lot of medical-grade oxygen supply, which he described as a "vital component" amid the Covid-19 pandemic.
He also praised the oxygen manufacturers for continuing their production during these trying times.
"We really need many supplies of oxygen. If it really goes out of control, we would need all the oxygen that they can produce for the people," Duterte said. (PNA)