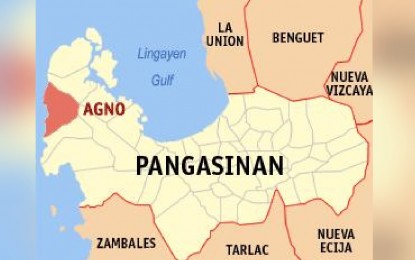 MANILA – Fisheries stakeholders on Monday expressed deep concern on the possible impact of a proposed offshore mining project to extract 25-million metric tons of dry black sand per year in Lingayen Gulf.
Covered by Financial and Technical Assistance Agreement No. 07-2020-IOMR, the project is located along the municipal waters of Sual, Labrador, Lingayen, Binmaley, and the City of Dagupan -- with a total area of 9,252.45 hectares.
Lingayen Gulf is one of the major fishing grounds in the Philippines covering 2,064 square kilometers of water, surrounded by the towns of Agoo, Alaminos, Anda, Aringay, Bani, Bauang, Binmaley, Bolinao, Caba, Dagupan, Labrador, Lingayen, Rosario, San Fabian, San Fernando (La Union), Santo Tomas, and Sual.
In 1993, Proclamation No. 156, s. 1993 signed by then-President Fidel Ramos declared Lingayen Gulf "as an area to be devoted to sustaining production of fish and other marine products, preserve genetic diversity, protect natural features, and enhance outdoor recreation".
The Gulf is also home to two protected areas -- the Hundred Islands National Park and the Agoo-Damortiz Protected Seascape.
The entire Lingayen Gulf has around 3,000 cages for bangus (milkfish), thousands of hectares and fishponds, hundreds of fish pens and very productive fishing ground. Estimated annual production from bangus cages alone is around 125,000 to 150,000 metric tons, thus making the area one of the country's top bangus producers.
"At a farmgate price of PHP110 per kilo, revenue from bangus production in Pangasinan alone is at least PHP16.5 billion. We're very much concerned about the danger that this project poses to both the aquaculture and fisheries industries and the livelihood of fishers and aquaculture operators in the Gulf," said Norberto Chingcuanco, vice president for planning of Feedmix Group, during a virtual presser on Monday.
The stakeholders are urging the national government to reconsider its decision to approve the project's implementation as this will adversely impact the livelihood of fisherfolk especially since excavation will be allowed from 500 meters from shore seaward.
"This is where the coral reef, seagrass and soft bottom ecosystems thrive. This is also where spawning and nursery, egg and larval dispersal of economically important species occur. If we do not prevent the possible destruction of our coral reefs, livelihood and food security will be threatened," they said.
The group claimed that the sand and other raw materials where magnetite will be extracted also contain eggs, larvae and fry which are abundant in the Gulf.
"It is fair to assume that suctioning and processing raw silt along with seawater from where the magnetite will be taken are likely to kill the eggs, larvae, fry as well as small fishes," they added.
Dr. Lemnuel Aragones of the UP Institute of Environmental Science and Meteorology (UP IESM), during the virtual press conference, cited the need to legislate a truly enacted and institutionalized environmental impact assessment (EIA) law.
"The EIA focuses on the biological and social environment. Any sort of mining that will extract resources... if not truly handled well particularly if its impact is not mitigated well, will not be effective on the economic and financial projections. It will be such a loss especially since the current biological environment is already providing economic gains that are already benefitting coastal communities surrounding Lingayen Gulf," he explained.
He added that extraction will affect habitat which in turn will affect capture fisheries and aquaculture production.
"When we look at it, the biological environment and social environment are both going to be compromised by this project," Aragones said.
Meanwhile, the Philippine Fisheries Development Authority (PFDA) regional fish ports registered over 9,000 metric tons (MT) of fish despite scattered and intensified southwest monsoon rains during the September 13 to 19 unloading period.
The regional fish ports encountered a slight drop of 8.52 percent in their aggregate weekly unloading volume but managed to deliver an adequate supply of fish to all their consumers.
The PFDA also said it continues to deliver fresh-frozen fish and fishery products through its "isDA ON THE GO" (iOTG) Flagship Project. Through this project, the authority continues to bring healthy food sources closer to all Filipino families.
This September, the iOTG project sold 3.3 MT of high-quality and pocket-friendly fishery products to its consumers nationwide.
At present, the iOTG initiative has already sold a total of 126.43 MT of affordable fish supply since the pandemic began in March 2020.